Regular price
Sale price
$49.00
Unit price
per
THE PAN. THE MYTH. THE LEGEND – Legend cast iron pizza pan combines a rich heritage with modern cooking needs. Famous for lifelong durability and workhorse versatility, Legend cast iron cast from solid, pure steel and iron, this healthy nonstick pizza pan is THE master of heat distribution.
LARGER, TILTED HANDLES FOR EASY LIFTING – 14 inch round pizza maker features large, heavy duty side handles and deeper walls for everything from NY thin to Detroit deep dish. Also perfect as griddle for fajitas, quesadillas, eggs, omelets, bacon, pancakes, steaks and more.
IMPROVES WITH EVERY USE – The more you cook, the better they perform. Your Legend skillets arrive with a foundational seasoning of 100% vegetable oil (no synthetics/chemicals). As you build up your own seasoning, you write your story into pans worth passing down.
LEGEND'S "FOREVER WARRANTY" – Legend Cast Iron pots and pans last a lifetime and then some. Nothing beats cast iron durability; just try putting a dent in these! If our craftsmanship or cooking performance ever fail, you'll get your money back. Some things do last forever.
GIVE THE GIFT OF LOVE — For the chef who swears by cast iron; for the home cook who's discovered its allure; for the sourdough baker; for the guy with a penchant for cooking; for the granny who appreciates the high-quality of yesteryear. Give 'em the gift of a Legend.
How to get cooking:
Store until ready to use.
Dry pan and coat with a thin layer of oil.
5-Ply Premium Construction
Any-Rack Dishwasher Safe
Cast Stainless Steel Handles
All-Cooktop Compatible
Durable Riveted Handles
Safe & Secure Checkout
Free Shipping + Free Returns
30-Day Money-Back Guarantee
Accepted Payment Options
Free Shipping and Returns
View full details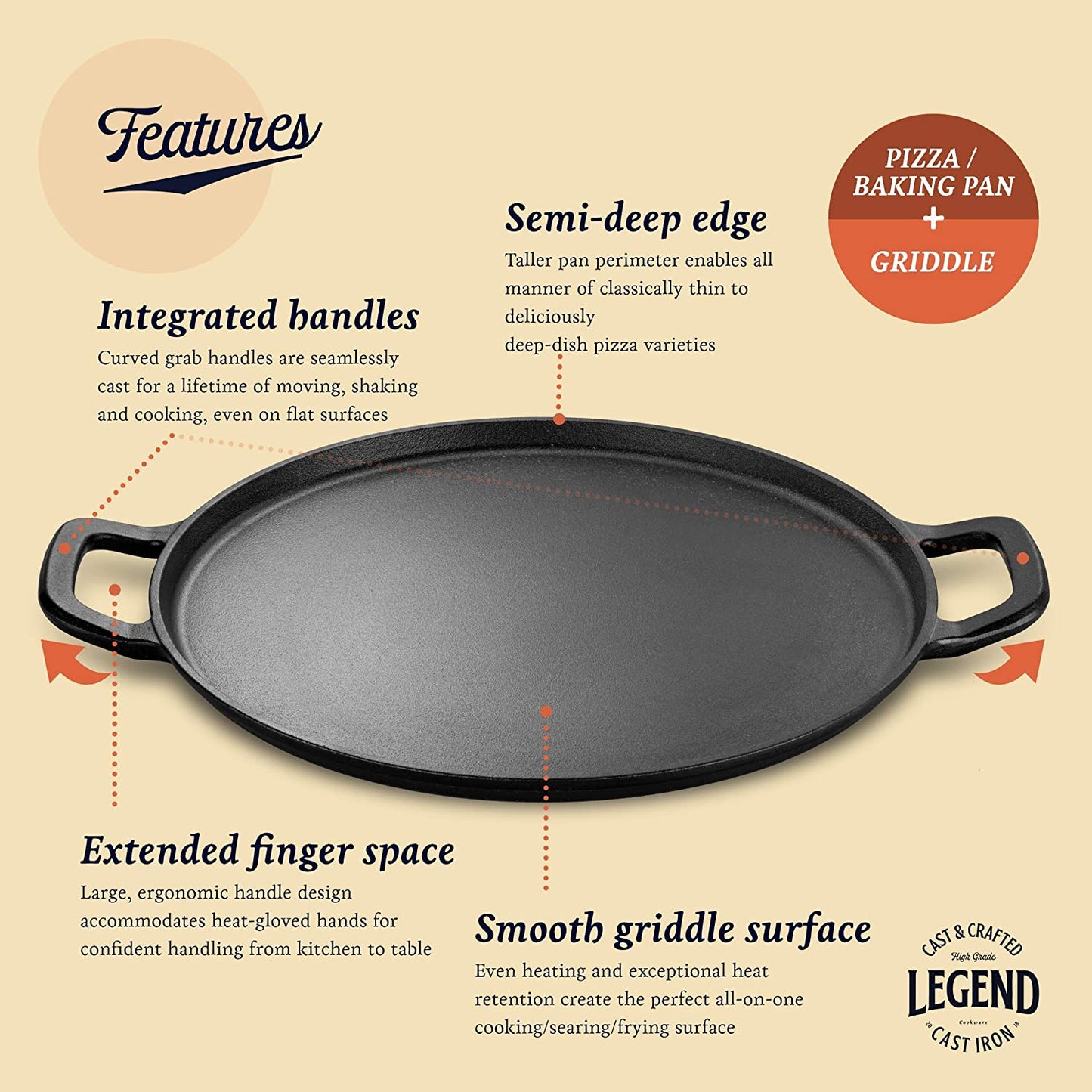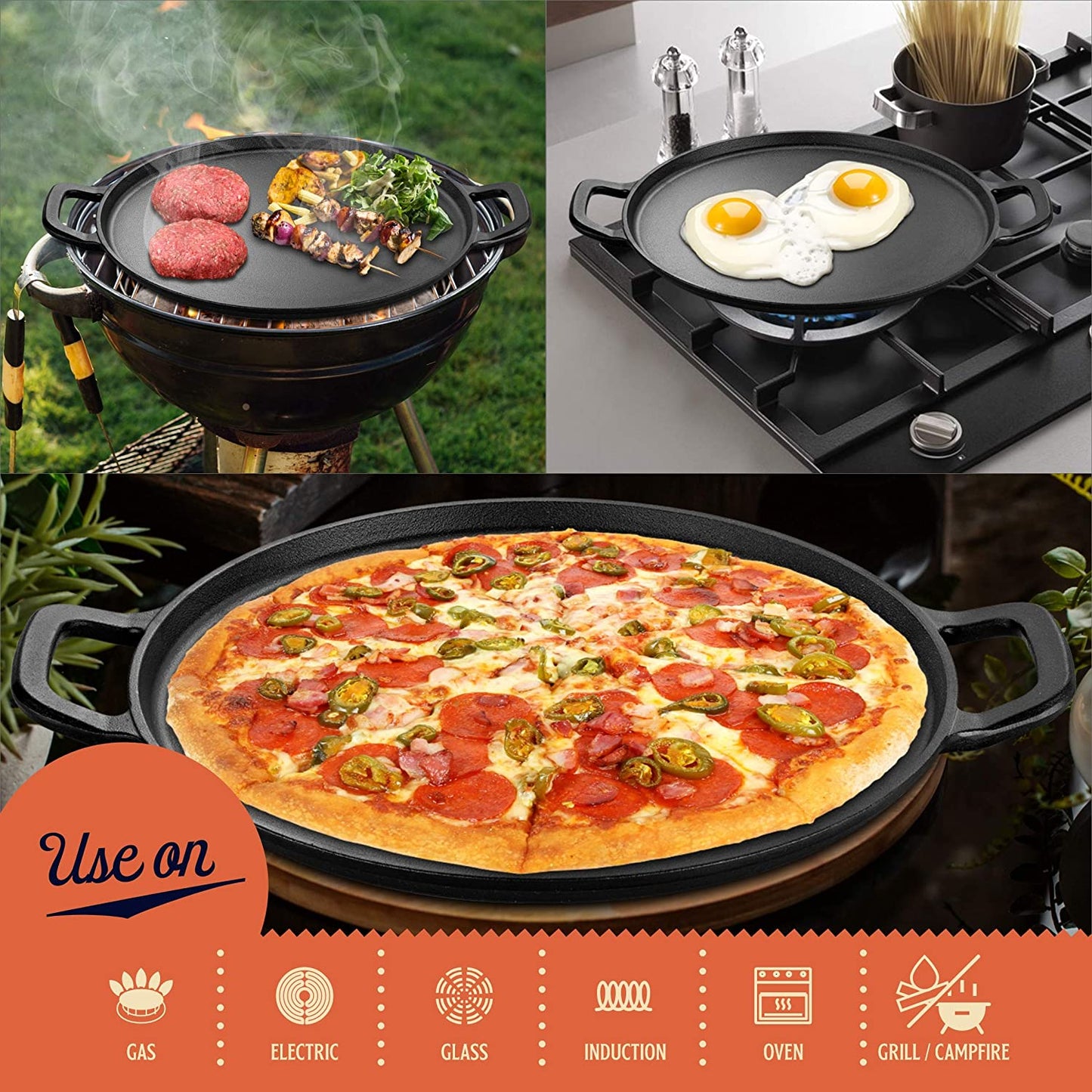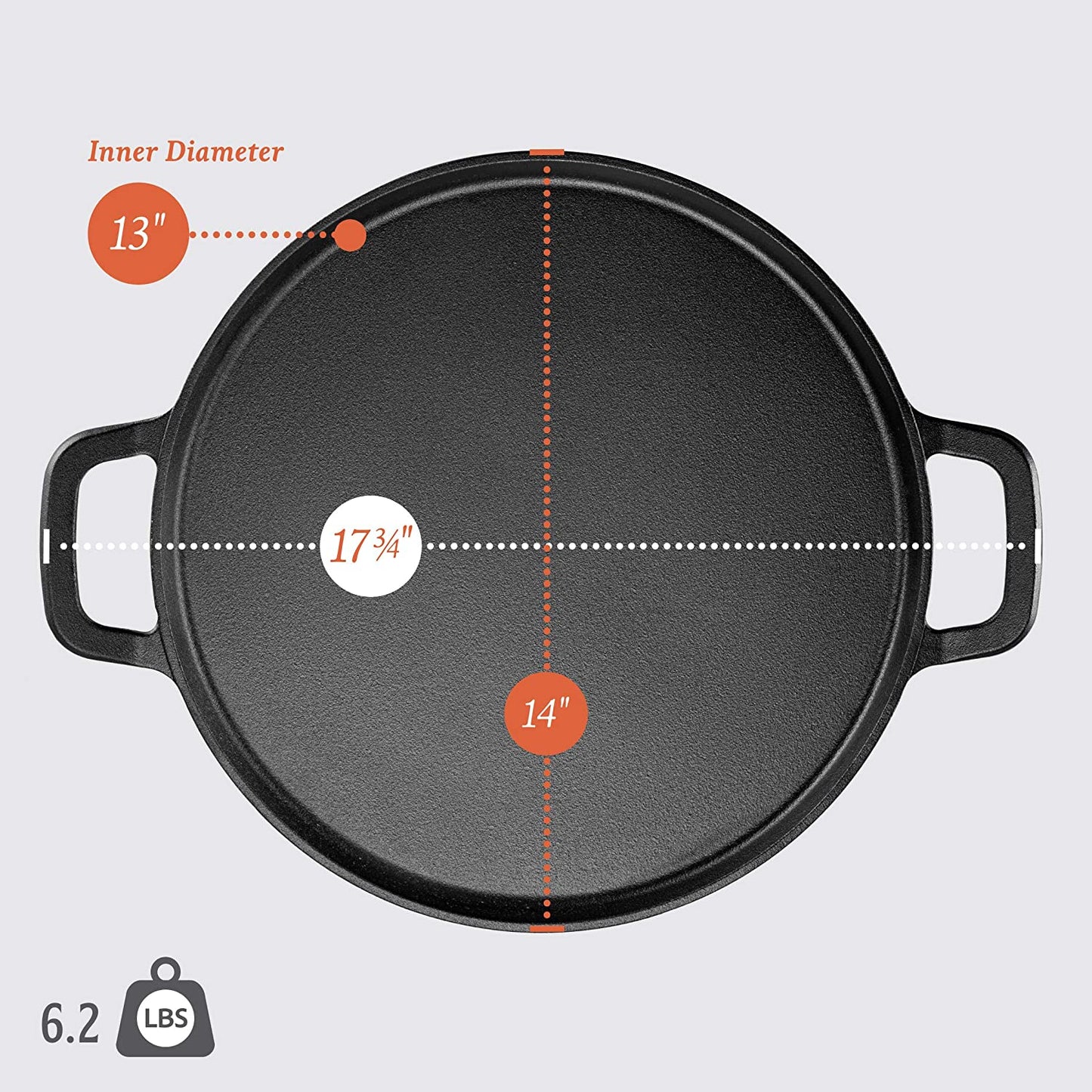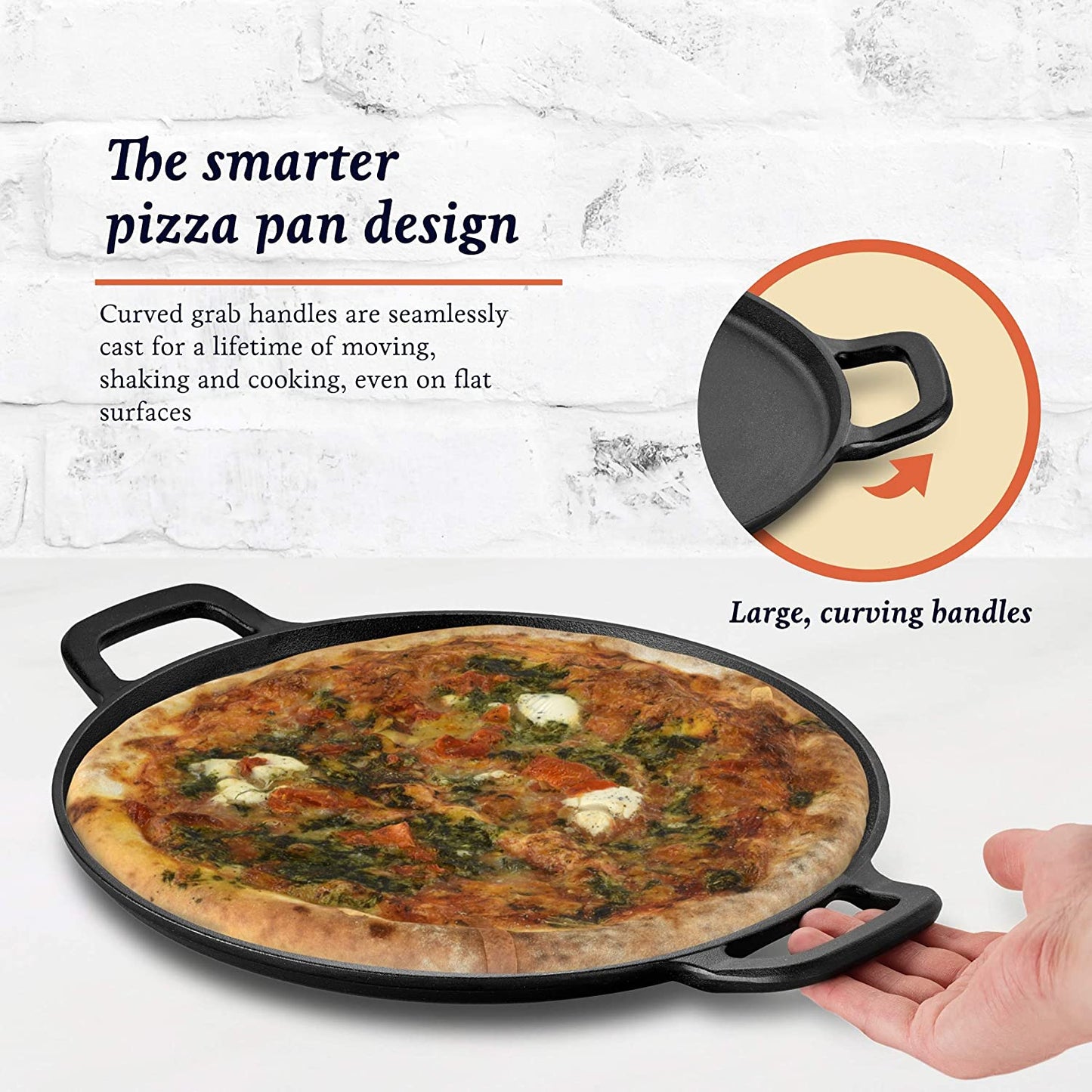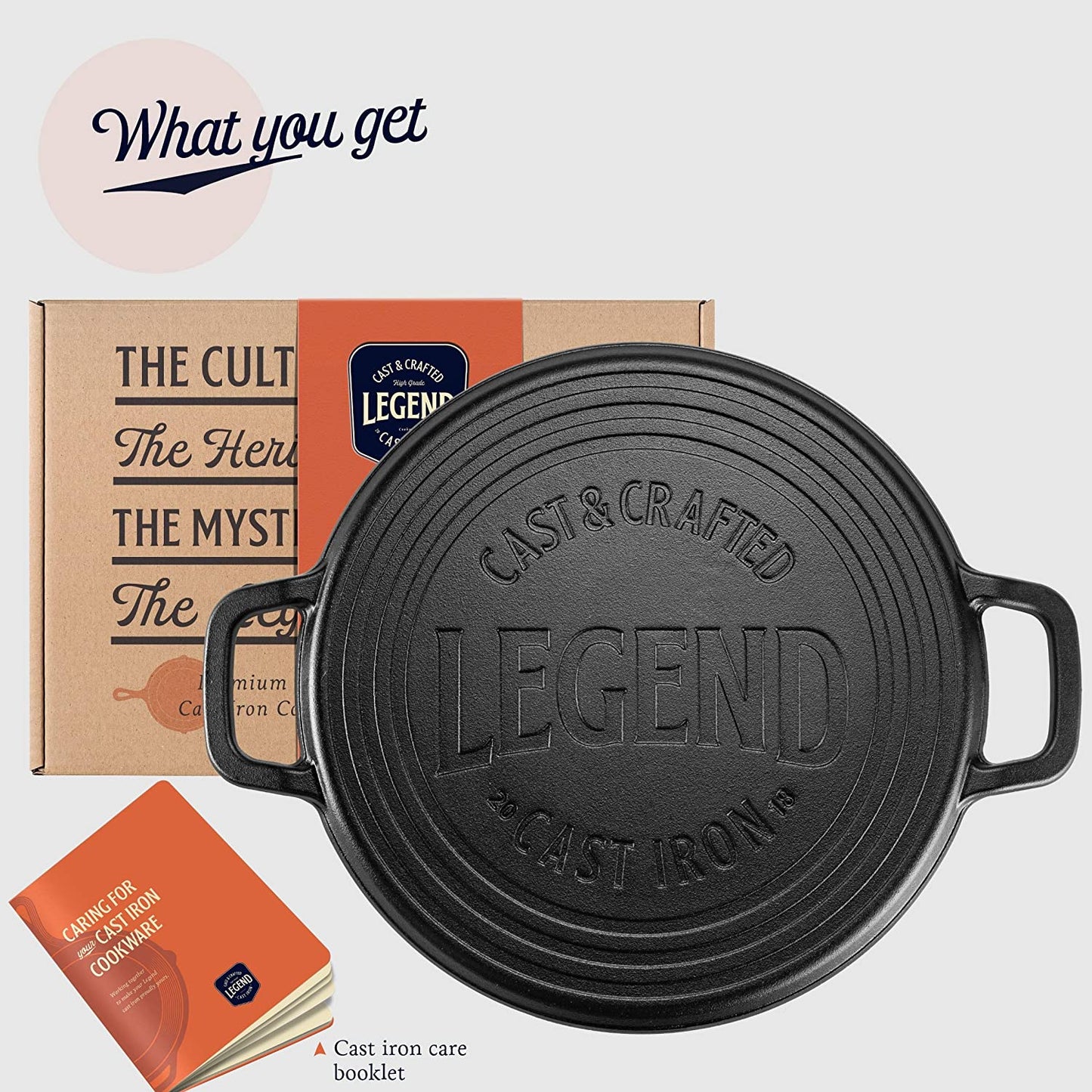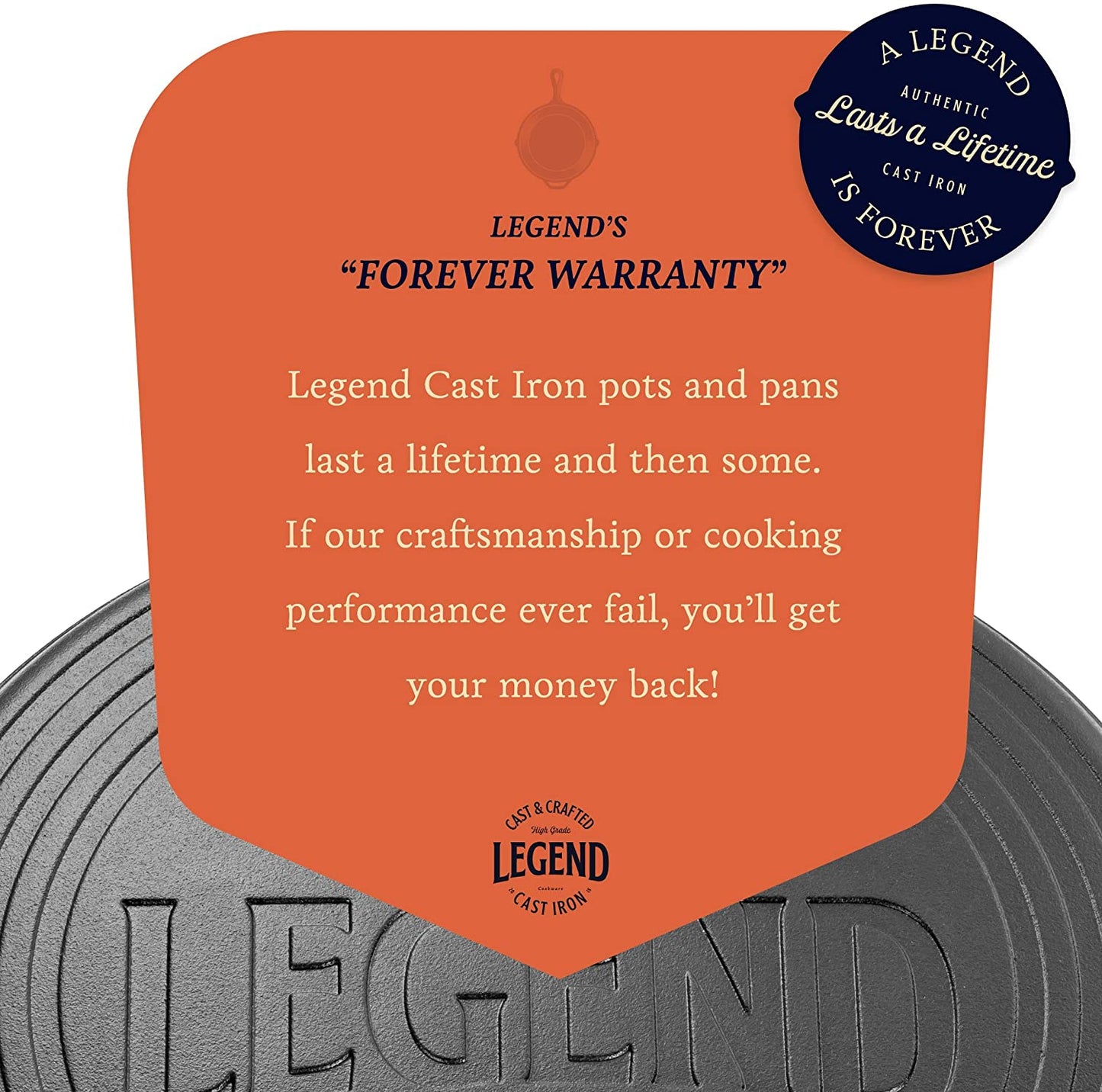 Free Shipping & Free Returns
Shipping
For orders within the continental U.S., we offer FREE domestic ground shipping— which usually delivers within 2-4 business days (once the order is processed). Orders shipping to Hawaii or Alaska will be subject to longer delivery times. Questions? Contact us.
Damaged Items
Contact us immediately if any item in your order is defective, or damaged or if you receive the wrong item so that we can evaluate the issue and make it right.
Returns
We offer free returns on all our products. Once you receive your item, you will have 45 days to request a return.
Contact us to start a return. We'll send you a return shipping label, as well as instructions on how and where to send your package.
If it's more than 45 days Contact us and we would try our best to make things right for you.
Exchanges
The fastest way to make an exchange is to return the item that you have. Once the return is accepted, you can then make a separate purchase for the new item. Contact us to start a return.
Refunds
Once we've received and inspected your return, you'll be fully refunded on your original payment method. Please remember that it can take some time for your bank or credit card company to process and post your refund.
Tough as literal nails.
Our cast iron has no idea how to quit, ever. Cast from solid, pure, premium steel and iron, it offers unmatched heat distribution and power.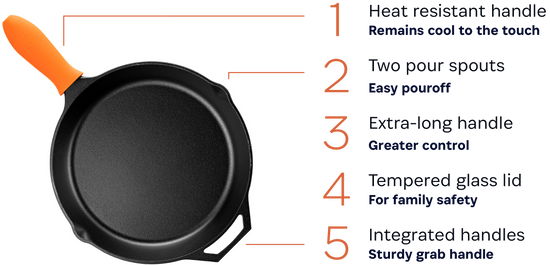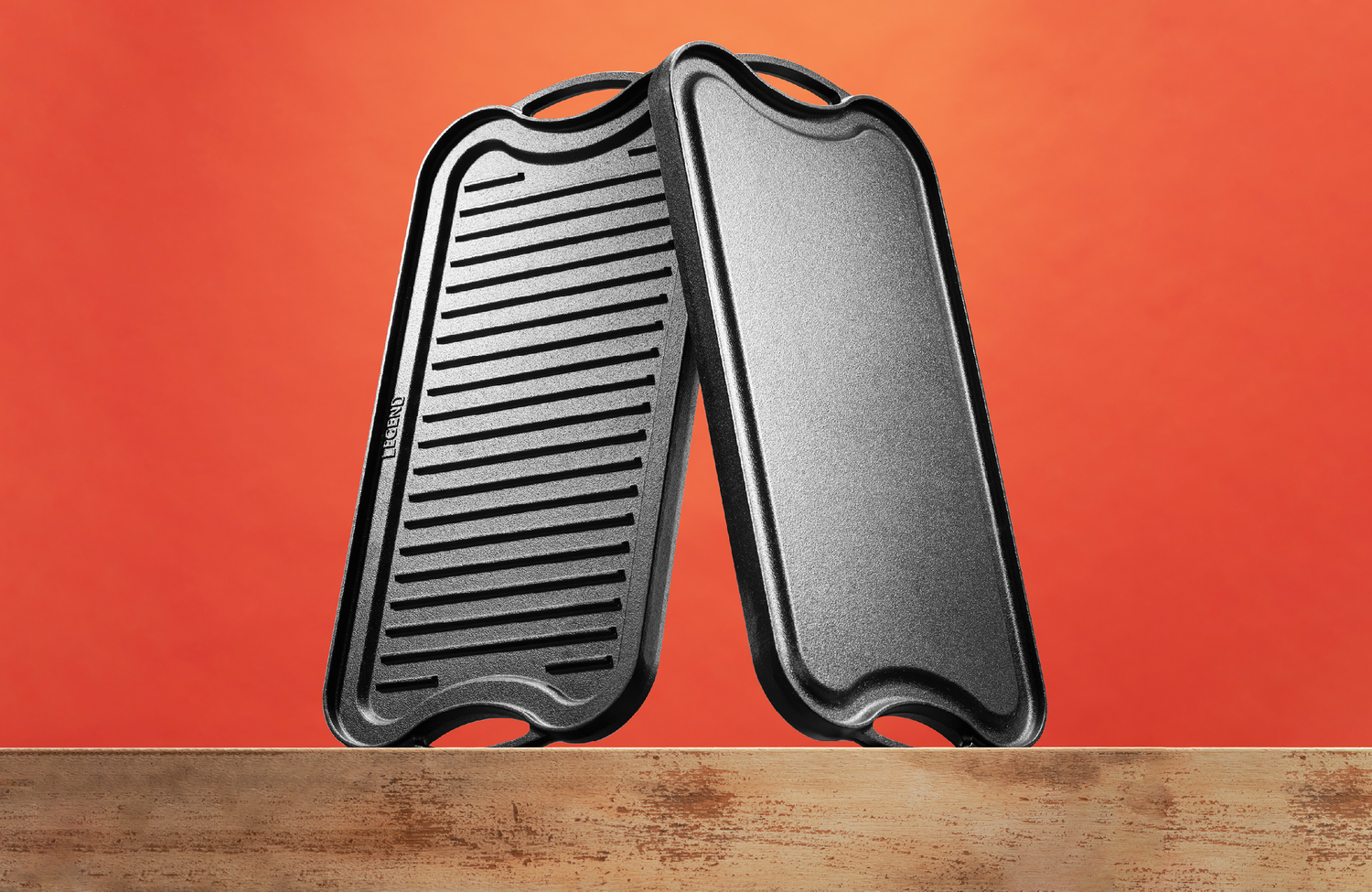 Arrives ready. Gets better.
We apply a light layer of 100% vegetable oil as pre-seasoning. With continued use, it builts up to a perfect, healthy, no-chemical nonstick.
Goes in (any) fire for you.
Gas. Electric. Glass. Induction. Oven. Grill. Use any heat source, and move seamlessly from campfire to stovetop to oven to table.
Delicious Shipping

Fast, free ground shipping on all orders within the United States. What makes it so delicious? There's a chance you may find a surprise bonus in your order.

Forever Warranty

Never, ever stop making with Legend. If our craftsmanship or cooking performance ever fall short, we will make it right, or return your money in full.

Love Included

Your purchase is packed with care, even though it's tough enough to handle any bump in the road. Expect packaging sizzling with style and strength.
| | Legend Cast Iron | Traditional Cast Iron |
| --- | --- | --- |
| Non-Stick (Pre-Seasoned) | | |
| Non-Toxic | | |
| Smoother, Food-Release Finish | | |
| Long, Ergonomic Handles | | |
| All-Cooktop Compatible | | |
"Level up with this professional-grade cookware set."
Details & Specs
Structure

Number of Pieces:

Product type: Griddles & Grill Pans

Dimensions:

Cooking Surface:

Thickness:

Weight: 1.0 lb

Interior Material:

Interior Ply:

Max Temp: 450℉
Usage

Dishwasher Safe: Yes

Gas Cooktop Safe: Yes

Electric Cooktop Safe: Yes

Glass Cooktop Safe: Yes

Induction Cooktop Safe: Yes

Oven Safe: Yes

Grill Safe: Yes
Manufacturing & Shipping

ASIN: L2611

Model #:

Domestic Shipping:

International Shipping:

Country of Origin:
FAQs
Does Legend Cast Iron Cookware take a long time to heat up?

In comparison to other, more modern cookware, yes. However, cast iron retains heat for much longer than other cookware.
Does Legend Cast Iron Cookware heat evenly?

Once the pan is fully hot, it will distribute heat evenly. We recommend pre-heating your pan before use for better performance.
Does Legend Cast Iron Cookware retain heat well?

Yes it does! Cast Iron Cookware is one of the most heat-retentive materials on the planet. You can even use a lower heat setting than other pans, once your skillet is heated up.
What is Legend Cast Iron Cookware made of?

We use a high-quality blend of cast iron and steel to make our pans. This allows for maximum durability and exceptional performance.
Can I use my Legend Cast Iron Cookware in the oven?

Yes you can! In fact, Legend Cast Iron Cookware is safe to use on any cooktop, including gas stoves, electric stoves, glass cooktops, induction stoves, grills, ovens—and even over a fire!
Will I need to replace my Legend Cast Iron Cookware every year?

Absolutely not! Legend Cookware is built to last, without the need for frequent replacement. Follow the instructions in our Cast Iron Care Guide to make the most out of your new set!
How is Legend Cast Iron Cookware different from traditional cast iron cookware?

For our cast iron collection, we took all the things you love about heritage-rich, cast iron cookware and added a few little details of our own to make cooking up your next creation even easier. For example, we implemented longer, more ergonomic handles for a stronger grip. We also designed a smoother finish to make it easier to reap the benefits of your pans natural non-stick features even faster.
Is Legend Cast Iron Cookware Non-stick?

When used properly, yes. Cast iron cookware is naturally non-stick due to many layers of "seasoning" with cooking oil. The more you use your pan, the less food will stick. Our cookware comes pre-seasoned with a thin layer of high-quality vegetable oil to help get you started. Follow the instructions in your Cast Iron Care Guide to continue to season your pans.
Is Legend Cast Iron Cookware dishwasher safe?

Unfortunately, no. Washing in the dishwasher could affect the appearance and performance of your cast iron cookware. Follow the instructions in your Cast Iron Care Guide to clean and care for your pans.
Great cast iron pizza pan!
It's heavy cast iron and needs attention to keep it maintained. I am amazed at how many reviewers put theirs in the dishwasher, soaked or didn't dry it properly and didn't follow the care instructions then blamed the pan for rusting, yikes! It is time consuming to care for cast iron, which must be thoroughly dried and oiled to prevent rust, but well worth it as it bakes the most delicious food! I rinsed it with hot water and a stiff scrub brush (no soap), dried thoroughly with a lint free towel (old ones I don't mind being stained), buffed with oil and baked in the oven for 30 minutes as directed (aka the first "seasoning"). I used it right away for my homemade no-yeast crust with my own white sauce blend for my spinach chicken pizza, after seasoning the pan as directed, I rubbed a little more oil on the pan before putting my crust on, and my pizza turned out GREAT, cooked up even better than expected, did not stick, the crust was crispy even though I did not preheat the pan, and the toppings were cooked perfectly, (baked it at 425 degrees Fahrenheit for 20 minutes. Wow, it was so yummy, my family loved it! I recommend this pan, but encourage you to first do the research as to how to care for cast iron to avoid rusting, which won't hurt you by the way if it does rust don't panic, just scrape it off with salt and a stiff brush then buff oil on it and bake the pan 30 minutes at 450 as directed. If you are looking for a lightweight nonstick pan to throw in the dishwasher this isn't that. If you don't mind putting in the effort for its care then this is a decent quality healthy-to-use cast iron pizza pan. Just realize it may start off with a rough surface that will smooth out over time as it gets more and more seasoned, and when cared for properly should last years to come. I would have given it five stars except for a minor manufacturing defect in the surface, a small hole that may smooth out over time, plus cleaning and seasoning it took a bit of energy, otherwise it came nicely packaged and was a good purchase overall.
Cast iron heaven !!
These pizza pans are worth money, a great value, easy to clean and cooks pizza on my pellet grill evenly and does it in about 20 min. I would recommend these pans to everyone.
Needs sanding before seasoning
I received this and it's a lil bit bigger than expected even tho it says the size. I have used this both on the stove for heating tortillas and in the oven for pizza. So far it has worked pretty good. I did notice that mine seems to cone a little bit when I heat it up. It's got a slight wobble. When I first got this it was extremely rough to the point that I was afraid I would cut my finger or tiny flakes of metal would come off on my food. I took 100 grit sandpaper and just ran it over top and bottom to knock down all the roughness and then thoroughly washed it a few times. After that I followed the instructions to season it and did that 3 times. It could use a 4th time to help w the cheese not sticking as much. Overall I am satisfied with this purchase and expect it to last for many years!
Best pizza ever pan ever!
My best review is the picture that shows the pizza I made. I used homemade dough for crust, pizza sauce, and Daiya vegan cheese to create this masterpiece. I heated the pan for 30 minutes at 500 degrees, assembled ingredients in pan and then baked for 12 minutes at 500 degrees. A regular metal pan would not be able to create resulting delicious pizza! I highly recommend!
Heavy real cast iron for the best cooking
Absolutely love it! Cast iron is our favorite cooking surface and to have this available for pizza or Flatbread is amazing. Crispy crust every time that is oh so delicious. Super easy to clean and cooks just as any cast iron should. Very heavy with super solid handles so two hands are definitely required but totally worth it for the finished product
Makes a really nice crispy pizza crust
Oh man, am I in love with this pan! I don't think I'll ever buy delivery pizza again. It now pales in comparison to what I can make at home with this pan. As soon as I got it, I had to try it out. I absolutely love thin crust pizza, but I can never get it to turn out as crispy as I like. I read online that the best way to get an extra crispy crust was to use a cast iron pan and they were right. Here's how I make my pizza. It turns out perfectly every time. I make my pizza dough in my bread machine. It's so easy to throw all of the ingredients in and in no time I've got my dough. Before I roll out the dough super thin, I put the cold pan in the oven, so it heats up while the oven comes up to temperature. Once the oven and pan are up to temperature, I take out the pan, put the dough on it and let it be for 1-2 minutes to crisp up a bit. I add the toppings and stick it back in the oven for 10-12 minutes or until the cheese is nice and brown. Take out and enjoy!! YUMMO!! This pan is high quality. I can't tell a difference between it and the Lodge cast iron pans that I have. It performs just as well, but for much less. So far, we've only used this for pizzas, but I'm planning to use it as a griddle to make breakfast on Christmas morning. It's easy to clean up and the seasoning is building up nicely. I'd highly recommend this pan to all of those crispy pizza lovers out there.
Perfect for cooking homemade pizza!
Excellent for making pizza! We preheat it in a 550 oven or grill for 30 mins, then slide the freshly made pizza on to it from a pizza peel. It's done in 6 minutes!
Awesome pan !
Did not buy for pizza , but got it for Indian Dosa which are crepes / pancakes made from fermented lentils and rice. Tried my luck with another brand but did not like the flavor, but this legend pan did the trick . Crispy dosas just like an Indian restaurant. I am a lodge lover , but this pan is just as good as a lodge pan at a better price. Wish lodge did not discontinue the 14 inch pizza pan , but this pan is a life saver . I am planning to use this also as a griddle for roasting vegetables and street style noodles. Legend brand , hats off to you for making such quality products.
Bakes great pizza and tortillas
Make Sure you season it before using.