Regular price
Sale price
$103.49
Unit price
per
THE PAN. THE MYTH. THE LEGEND – Legend Stainless is the next generation of your most important cookware. Reimagined from core out, our copper-core stainless steel cookware combines the epitome in rapid heating, heat retention, and cooking stability. This piece features cast stainless steel handles with durable rivets, all-cooktop compatibility, and any-rack dishwasher safety.
GENUINE 5-PLY WITH COPPER CORE – Crafted to Legend standards, each layer of premium metal serves a purpose: Layer 1 is 304 stainless steel for safe, easy-clean cooking; layer 2 is aluminum layer A for even heating; thick, genuine copper core offers rapid, reliable conductivity; layer 4 is aluminum layer B for heat retention; layer 5 is 430 stainless steel for performance on all cooktops.
YOUR MAKE-IT-ALL CULINARY MARVEL – Our 3-quart stainless steel saucepan—complete with a heavy, custom-fitted lid—is the year-round workhorse you need for everything from Sunday brunch in bed to Thanksgiving dinner with extended family: perfect for creating savory soups for the appetizer, rich gravies for the main course, sweet glazes and soft-candy confections for dessert.
LEGEND'S OWN "FOREVER WARRANTY" – Our passion is to bring you solid, performance cookware that withstand the rigors of daily use. While Legend Stainless pots and pans are intended to last a lifetime, our promise lasts even longer: If our craftsmanship or cooking performance ever fails you, we will replace your item or you'll get your money back. Turns out, some things do last forever.
GIVE THE GIFT OF LOVE & LOVELINESS – A set of Legend Stainless is equal parts enabler and decorator. For the chef who swears by copper core; for the home cook who's discovered the allure of 5-ply stainless steel; for the guy with a penchant for perfecting the art of cooking; for the grandmother who appreciates the craftsmanship of yesteryear—give them all the gift of a Legend.
How to get cooking:
Follow the Copper Core Sauce Pot care guide
Wash and dry inside and out
Fire up your stovetop, oven, grill, or campfire
Cook up a storm and serve right to the table with elegance and ease
5-Ply Premium Construction
Any-Rack Dishwasher Safe
Cast Stainless Steel Handles
All-Cooktop Compatible
Durable Riveted Handles
Safe & Secure Checkout
Free Shipping + Free Returns
30-Day Money-Back Guarantee
Accepted Payment Options
Features
Dishwasher Safe
Easy Storage
Oven Friendly
Non-Toxic
Free Shipping and Returns
View full details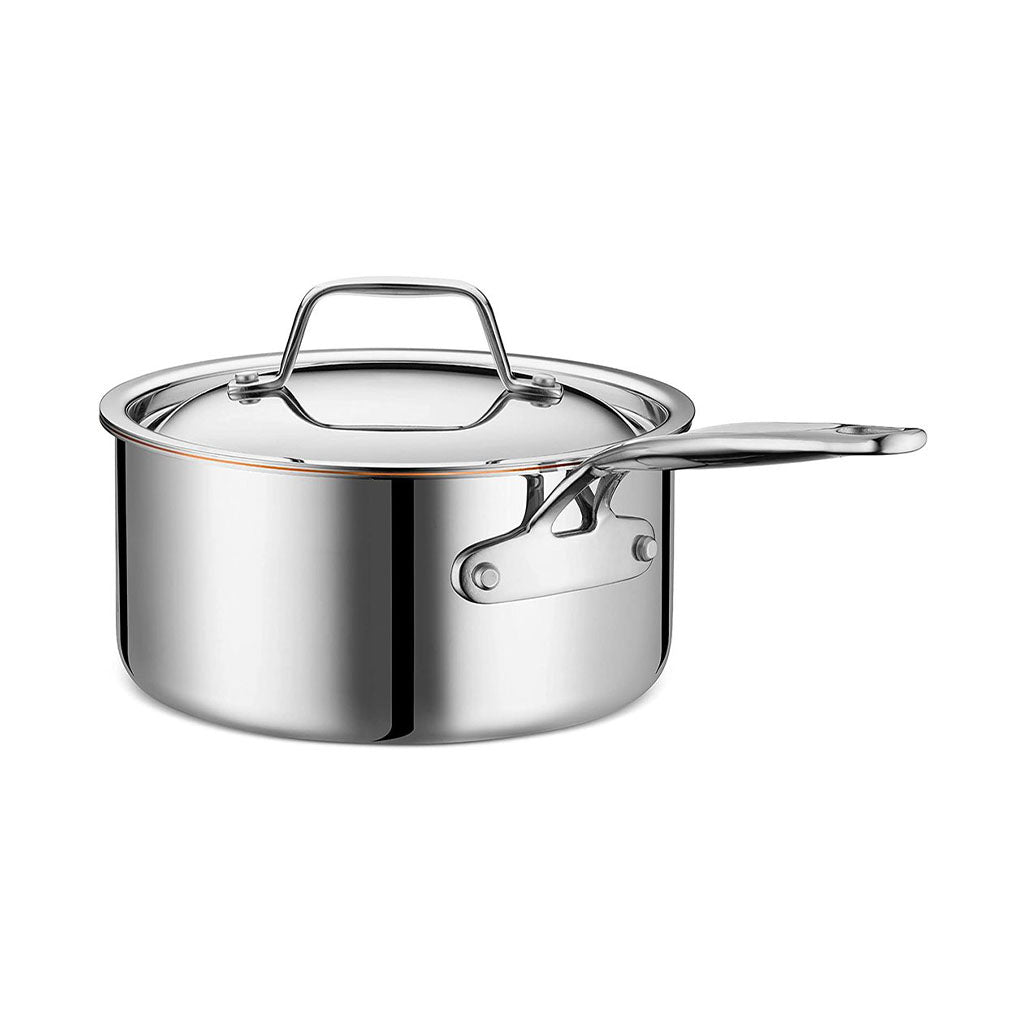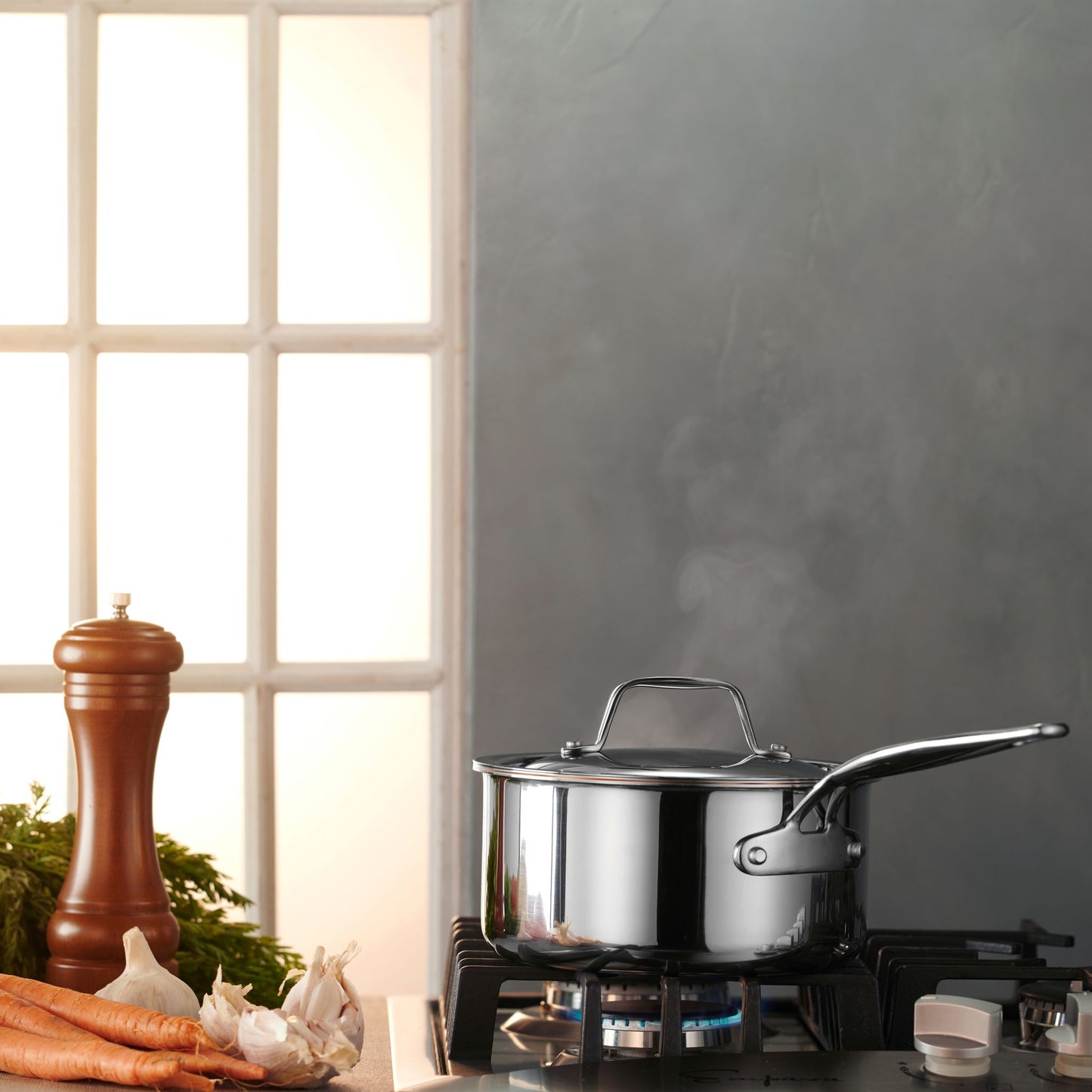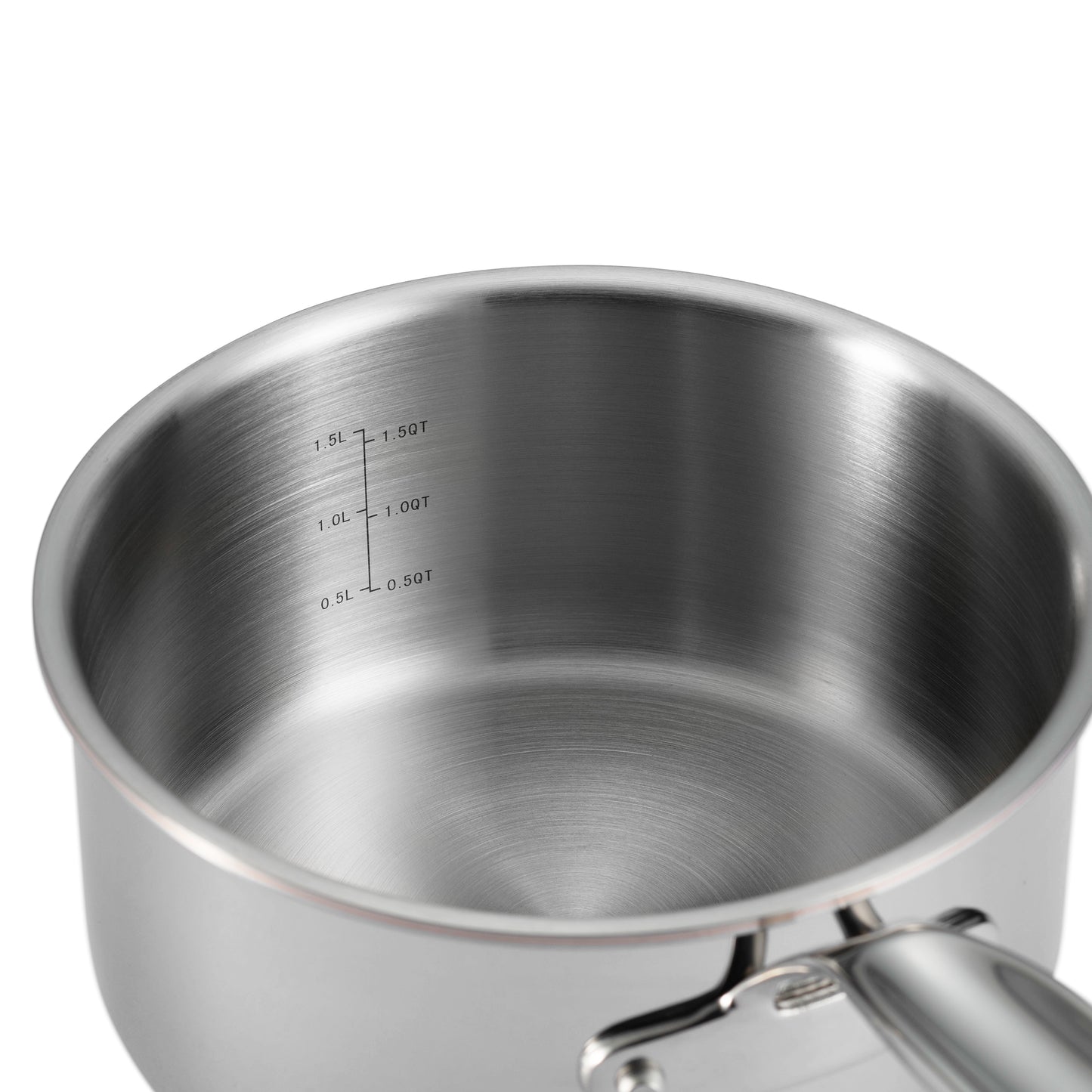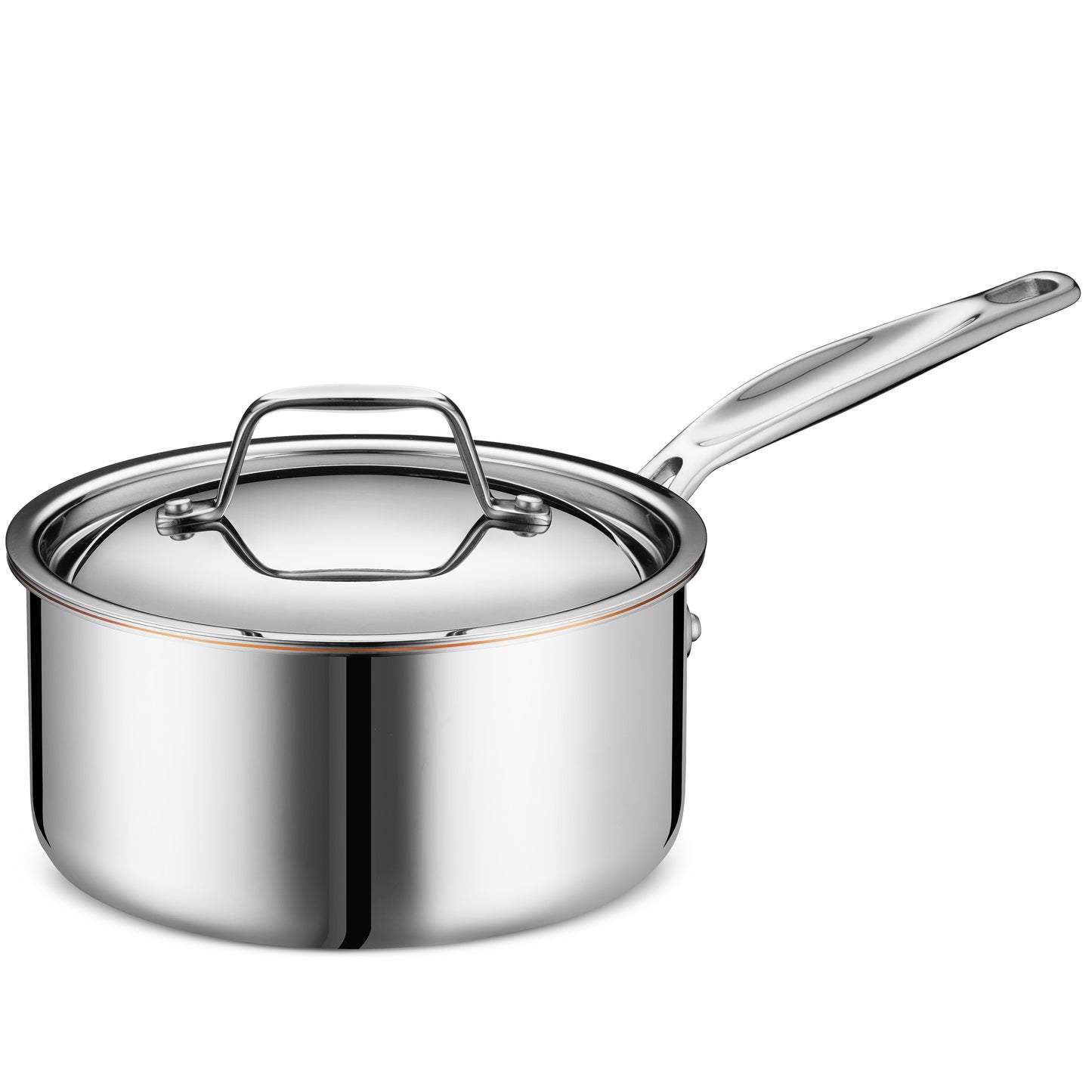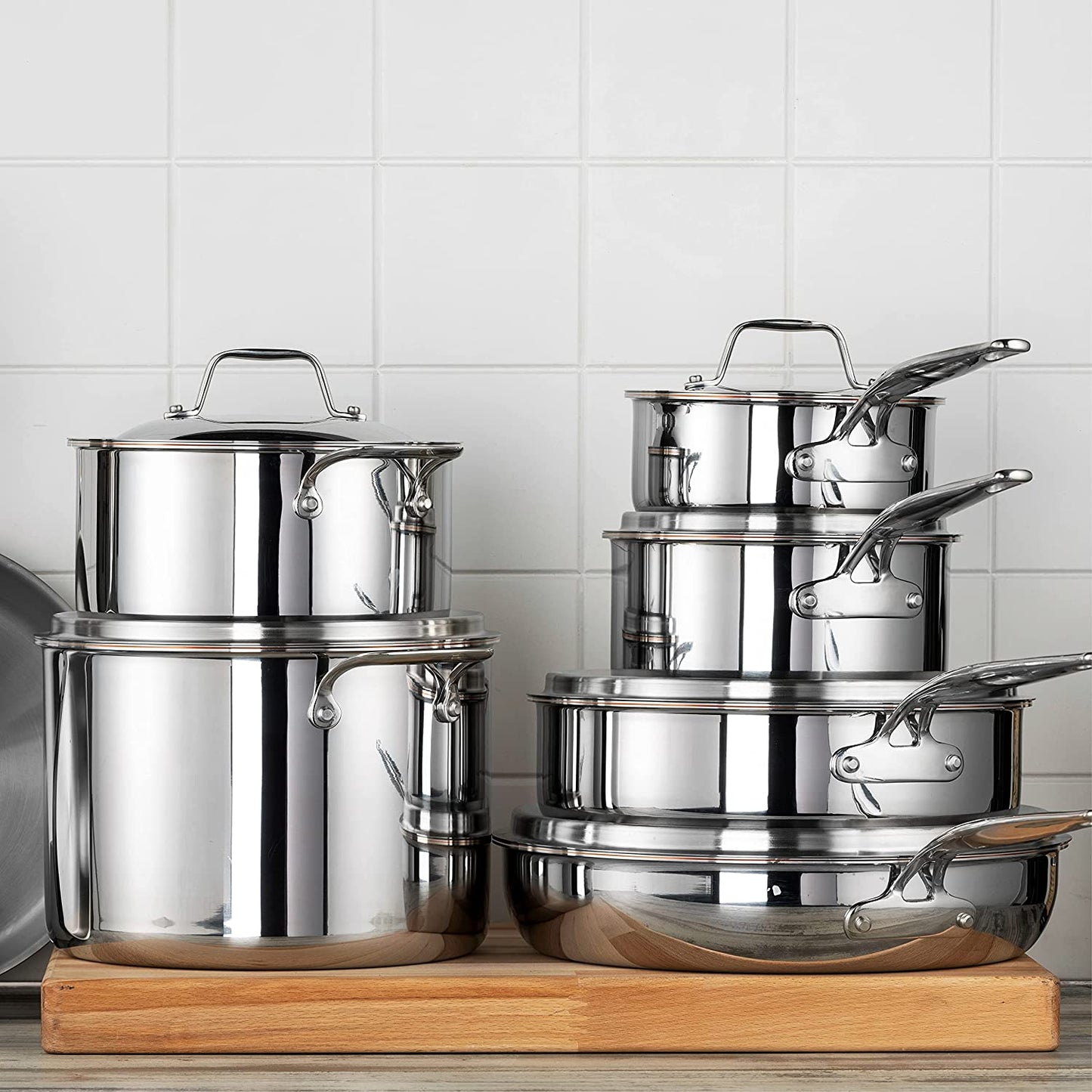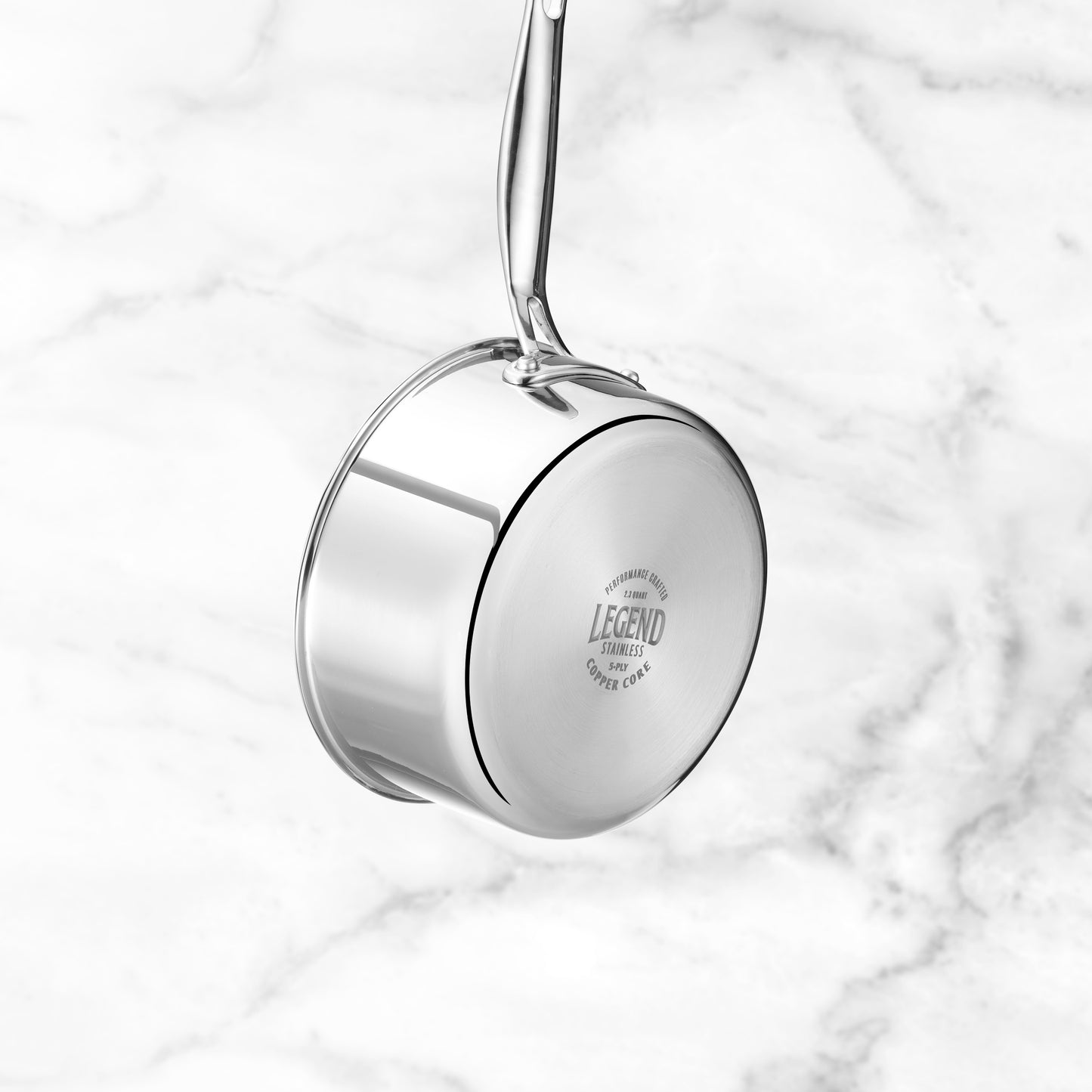 Free Shipping & Free Returns
Shipping
For orders within the continental U.S., we offer FREE domestic ground shipping— which usually delivers within 2-4 business days (once the order is processed). Orders shipping to Hawaii or Alaska will be subject to longer delivery times. Questions? Contact us.
Damaged Items
Contact us immediately if any item in your order is defective, or damaged or if you receive the wrong item so that we can evaluate the issue and make it right.
Returns
We offer free returns on all our products. Once you receive your item, you will have 45 days to request a return.
Contact us to start a return. We'll send you a return shipping label, as well as instructions on how and where to send your package.
If it's more than 45 days Contact us and we would try our best to make things right for you.
Exchanges
The fastest way to make an exchange is to return the item that you have. Once the return is accepted, you can then make a separate purchase for the new item. Contact us to start a return.
Refunds
Once we've received and inspected your return, you'll be fully refunded on your original payment method. Please remember that it can take some time for your bank or credit card company to process and post your refund.
Delicious Shipping

Fast, free shipping on all orders within the United States. What makes it so delicious? There's a chance you may find a surprise bonus in your order.

Forever Warranty

Legend cookware is built to last forever. Our lifetime warranty guarantees satisfaction or a refund.

"Because a legend lasts a lifetime"

Love Included

Your purchase is packed with care, even though it's tough enough to handle any bump in the road. Expect packaging sizzling with style and strength.
Details & Specs
Structure

Number of Pieces: 2

Product type: Saucepans

Dimensions: 15.4" L | 9.3" W | 5.6" H

Cooking Surface: 6.9"

Thickness: 3 MM

Weight: 7.94 lb

Interior Material: Copper

Interior Ply: 5 Ply

Max Temp: 450 °F
Usage

Dishwasher Safe: Yes

Gas Cooktop Safe: Yes

Electric Cooktop Safe: Yes

Glass Cooktop Safe: Yes

Induction Cooktop Safe: Yes

Oven Safe: Yes

Grill Safe: Yes
Manufacturing & Shipping

ASIN: L3601

Model #: 860006413101

Domestic Shipping: Free Shipping in USA

International Shipping: No International Shipping

Country of Origin:
Heats up, without letting up.
5 carefully calibrated layers get up to boiling quickly, and keep you knocking out serving after serving without losing steam. Literally.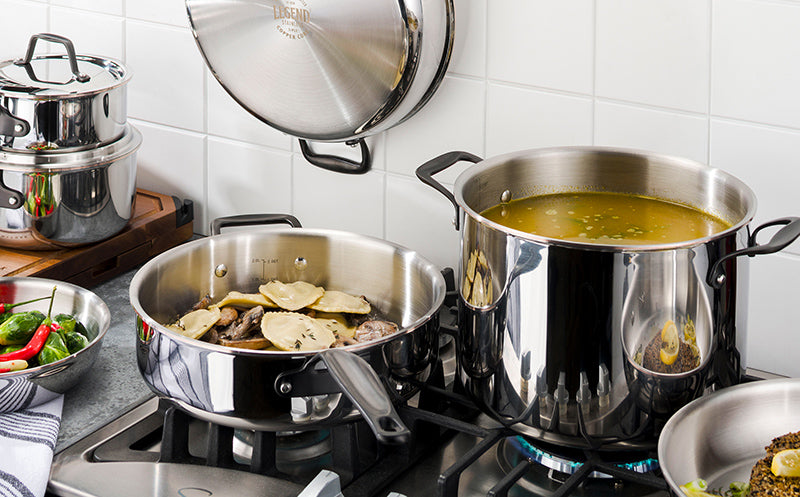 Goes in (any) fire for you.
Gas. Electric. Glass. Induction. Oven. Grill. Use any heat source, and move seamlessly from stovetop to oven to table to dishwasher.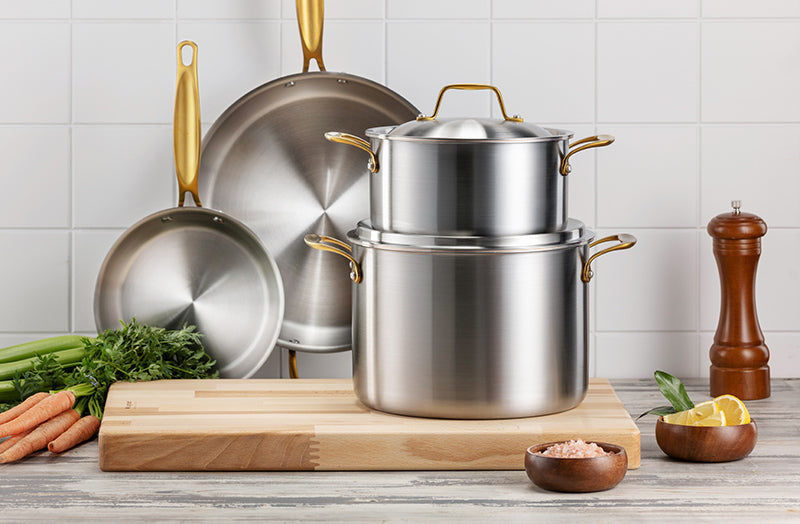 Handles anything you dish out.
The thick, cast stainless steel handles feature concave ergonomics for physical comfort, plus sleek rivets to ensure a lifetime of durability.
| | Legend Stainless Copper Core | Traditional Stainless Steel |
| --- | --- | --- |
| Rapid Heating | | |
| Excellent Heat Retention | | |
| Cooks Evenly | | |
| Consistent Performance | | |
| Easy to Clean | | |
| All-Cooktop Compatible | | |
"Level up with this professional-grade cookware set."
amazing quality frying pan for cooking vegetables and fish!
Durable and heavy and fast heating
Fantastic! I love this brand. When I opened the box, I knew I had made the right choice. I have been through a few skillets and tried everything and thrown out everything. I've probably spent a small fortune on lesser quality pans, thinking I'm saving money, only to replace them a few years later.
This time, I wasn't going to do that. I have an electric cooktop, but I sometimes use an induction burner if I'm running out of space or cooking outside. So I needed something versatile. Legend cookware is capable of cooking on all surfaces. I knew I wanted stainless steel, no coatings to chip or scrape off a few years later. But I also wanted something that cooked fast and consistently.
I have stock pots from my wedding almost 25 years ago, which take forever to heat up.
Therefore, the multi-layer stainless steel, aluminum and copper system was highly appealing. It's like a sandwich of all the best cookware materials, and this skillet is fantastic.
I'm not joking when I say it's heavy-duty. This thing has some weight. It weighs over 4 lbs. so if your looking for a lightweight skillet for a backpacking trip, this probably isn't for you. But if you want something to last years of use and wear in your kitchen, this might be perfect.
I love that it can go from the stove to the oven. Ideal for searing or frittatas. It says it's dishwasher safe, but I haven't tried that yet. I prefer to wash it by hand so it's ready for the next time I cook.
Good quality
I have had the same non-stick cookware for 13 years, and I decided it was time to upgrade.
When I bought the Legend copper core set, I first noticed how much heavier they were, but I could tell this was due to the higher quality compared to my old pans.
I had asked if the handles were hot while cooking and was answered yes. So far, the handles are warm but not hot enough that it would burn me. I have yet to use every piece in the set. So I don't know if that is the case with all pieces.
As for sticking, I expected it to be different then non-stick pans. I cooked bacon, and some stuff did stick. I leave the pan in water and then clean it. It isn't that hard to clean, but it is different.
Overall I am satisfied with the cookware set and hope to have it for the rest of my life as it says it has a lifetime guarantee (I am 35).
Great Pan
This is Pro quality cookware at a great price . Heat distribution is great on gas stove. 1st time using it carmelized onions beautifully and then I made gravy with no sticking. As with any 5 ply pan it's a little heavy but that is expected. Clean up was simple by spraying with Dawn power wash, let it sit for a few minutes and it wiped & rinsed perfectly clean. I've now ordered the 8" version.
Worth every penny
I just purchased a saucepan and a skillet from this company. I love them.
So first off I want to tell you that if this is for yourself, you'll be super pleased that you chose this because it has so many great qualities.
Secondly, if it's a gift, the recipient will feel very special when they open this because there is nothing subtle about the quality of this item regarding the packaging. It even comes with a complete color book with care instructions and an explanation of why it is so awesome.
The pot was heavy, and out of curiosity, I weight it. With the Lid, it was over 4 lbs (the 12-inch pan weighs more). I can use it on my electric cooktop or my induction burner. But if I send them as a gift, I don't need to worry about what cooktop they have because it says they work on all cooking surfaces.
Past the packaging and the initial shock of the weight, I was also impressed by the handle. I have a weak wrist, and comfortably gripping a pot if I'm transferring hot items is essential.
This has a very comfortable fit to my hand, and even though it's a heavy-duty pot, I can lift it without too much strain. It conducts heat very well.
I put one of my old pots and this pot on to boil with precisely the same amount of water, and this pot won by over a minute. I've only upgraded two cookware pieces, but I will switch out more soon.
This is an high quality product! It is large, maintains heat evenly and is easy to wash!
Bad ass!!! Best omelette I've ever made with this pan! Heats evenly and perfectly.
Very nice set of cookware
Better than the big name brand that's more than twice the price
I use my pot for lots of things like stews and soups. The pot heats up quickly, holds heat for a very long time off stove and isvery easy to keep clean. Like many multi clad pots, this thing is really heavy, especially when full. It's either have a quality, heavy pot or a light piece of junk. i think it's worth it.
FAQs
Does Legend Copper Core Cookware take a long time to heat up?

Nope! The thick, copper core is an excellent heat conductor, allowing the pan to heat up much faster than other stainless steel cookware.
Does Legend Copper Core Cookware heat evenly?

Yes! Two of the 5 layers of our copper core cookware are aluminum, which promotes even heating over the entire surface of the pan.
Does Legend Copper Core Cookware retain heat well?

Yes it does! The thick copper core helps the pan heat up quickly, while the 2 aluminum layers promote long-lasting, even heat.
What is Legend Copper Core Cookware made of?

This collection is made of 304 stainless steel, aluminum, and 430 magnetic steel—all wrapped around a thick copper core
Can I use my Legend Copper Core Cookware in the oven?

Yes you can! In fact, Legend Copper Core Cookware is safe to use on any cooktop, including gas stoves, electric stoves, glass cooktops, induction stoves—and even grills! You can also use our cookware in the oven!
Will I need to replace my Legend Copper Core Cookware every year?

Absolutely not! Legend Cookware is built to last, without the need for frequent replacement. Follow the instructions in our Copper Core Cookware Care Guide to make the most out of your new set!
What comes with the Legend Copper Core Cookware set?

This set comes with an 8-quart stock pot, two saucepans (1.4- and 2.3-quart), a 3.4-quart casserole pan, 2 frying pans (8- and 10-inch), a 3.5-quart sauté pan, and a 12-inch pan for everyday cooking.
How is Legend Copper Core Cookware different from traditional stainless steel?

The main differences between Legend Copper Core Cookware and traditional stainless steel are the performance and the care requirements. Because of its 5-ply construction, our cookware offers all the features you need, including fast and even heating—and good heat retention—so the performance is more reliable than regular stainless steel. Our 304 stainless steel layer makes it easier for food to slide in and out of the pan, making it easier to clean. Plus, all our copper core pans are dishwasher safe for ultimate convenience.
Is Legend Copper Core Cookware Non-stick?

No. Stainless steel cookware is not non-stick—this includes our Copper Core Collection. However, our 304 stainless steel layer does make it easier for food to slide off the pan than in traditional stainless steel pans.
Is Legend Copper Core Cookware dishwasher safe?

Yes it is! All Legend Copper Core Cookware is safe to clean in the dishwasher.