Regular price
$0.00
Sale price
$220.00
Unit price
per
5-ply Stainless Multi-ply Starter Set
Classic reliability. Innovative performance.
Featuring our signature MultiPly™ cladding technology, our 5-ply 5-piece Stainless Steel Cookware Set combines hardy stainless steel with heat-retaining aluminum for ultra-durable cookware that works anywhere you use it—indoors and out. Available in 5-piece (starter) and 14-piece for ultimate convenience.
5-Ply Premium Construction
Any-Rack Dishwasher Safe
Cast Stainless Steel Handles
All-Cooktop Compatible
Durable Riveted Handles
How to get cooking:
Follow included stainless steel care guide
Wash and dry inside and out
Fire up your stovetop, oven, grill, or campfire
Cook up a storm and serve right to the table with elegance and ease
Safe & Secure Checkout
Free Shipping + Free Returns
30-Day Money-Back Guarantee
Accepted Payment Options
Features
Easy to Clean
Dishwasher Safe
Easy Storage
Oven Friendly
Non-Toxic
Free Shipping and Returns
View full details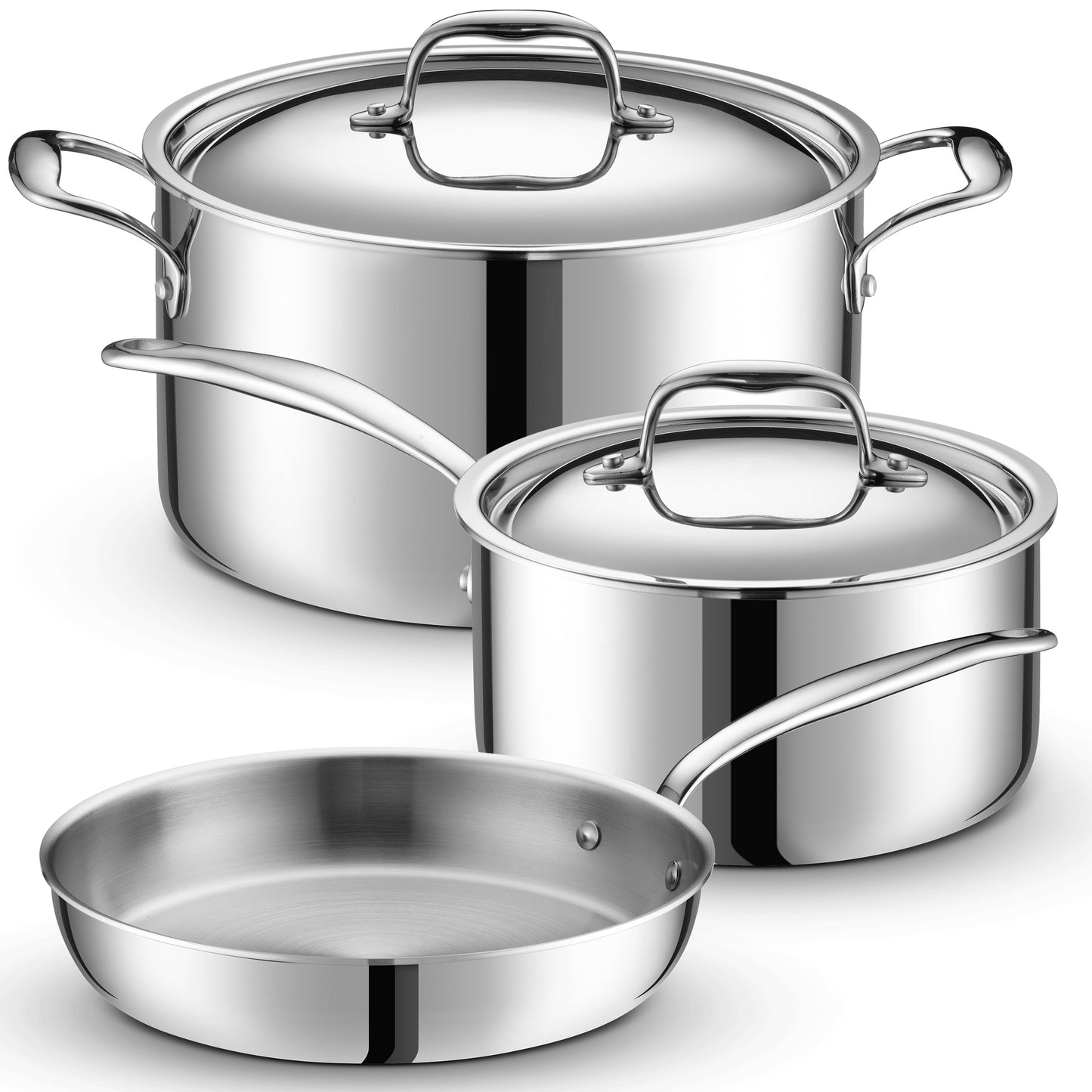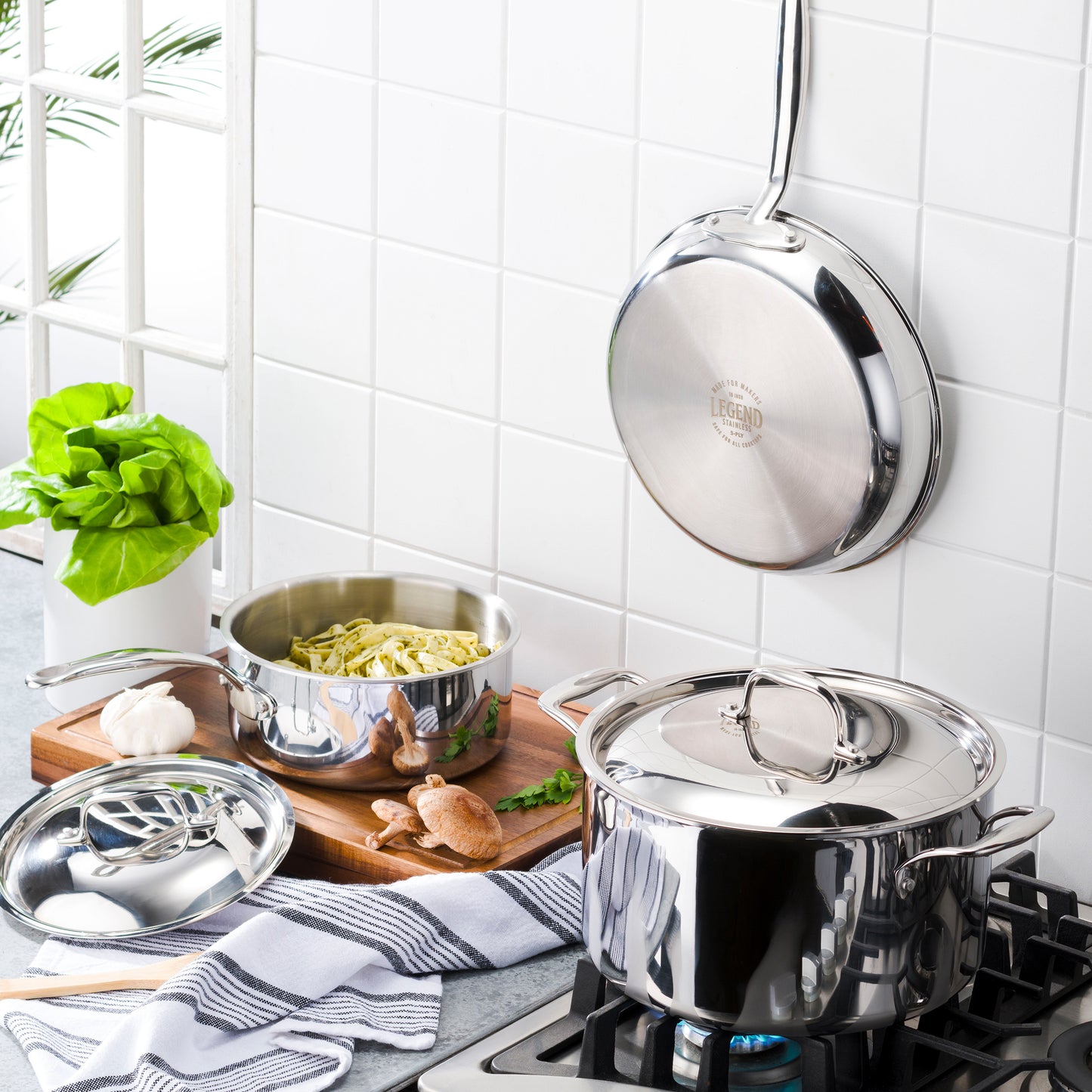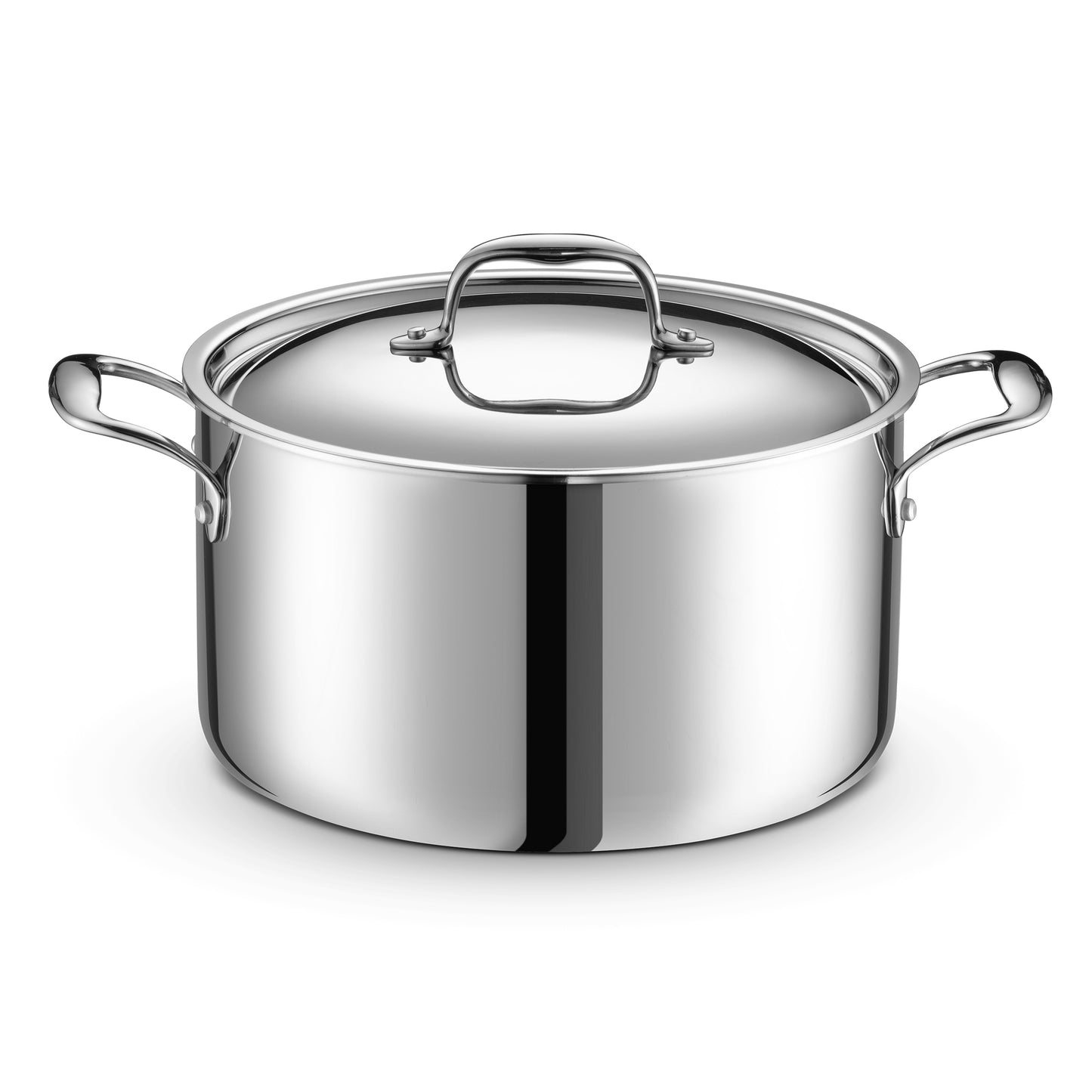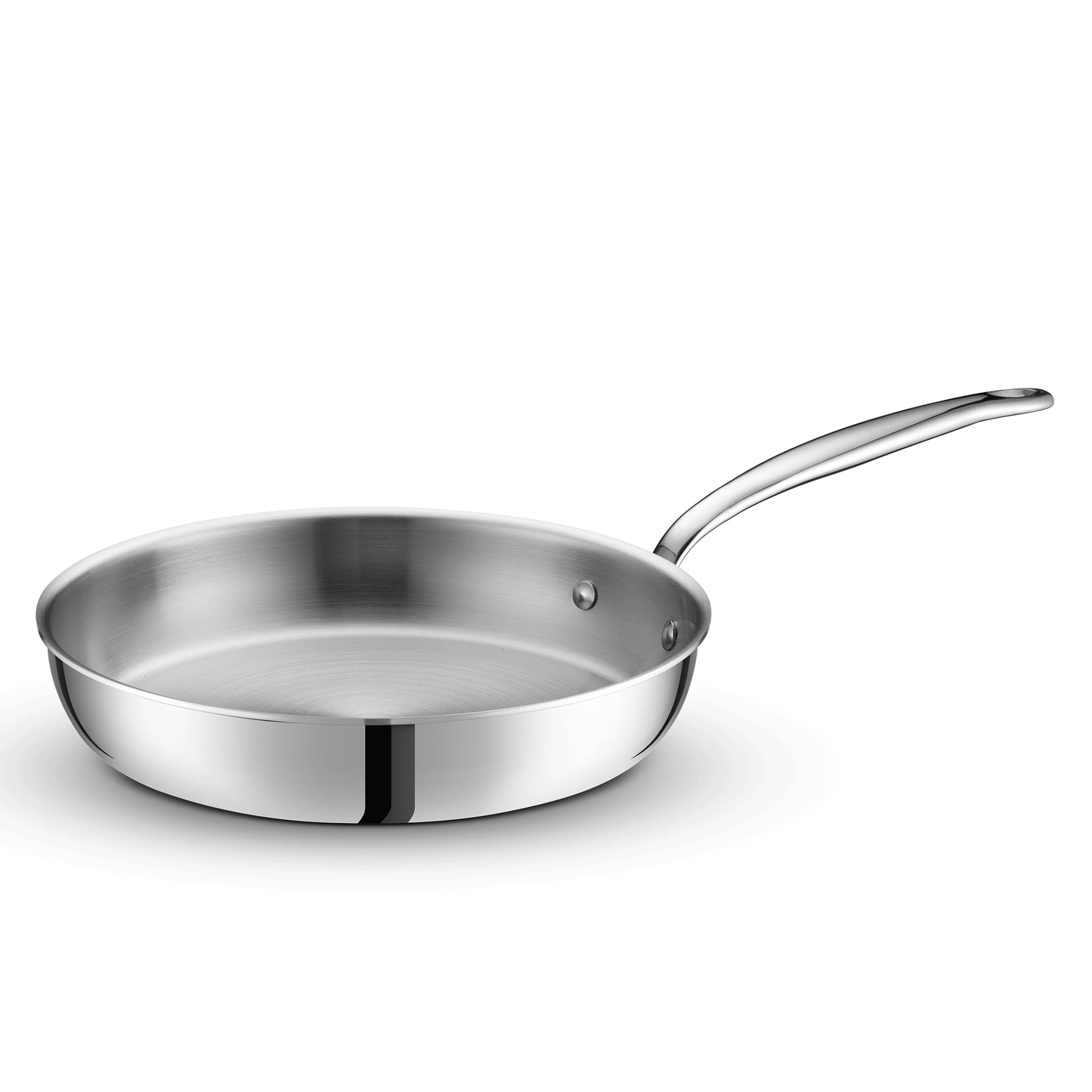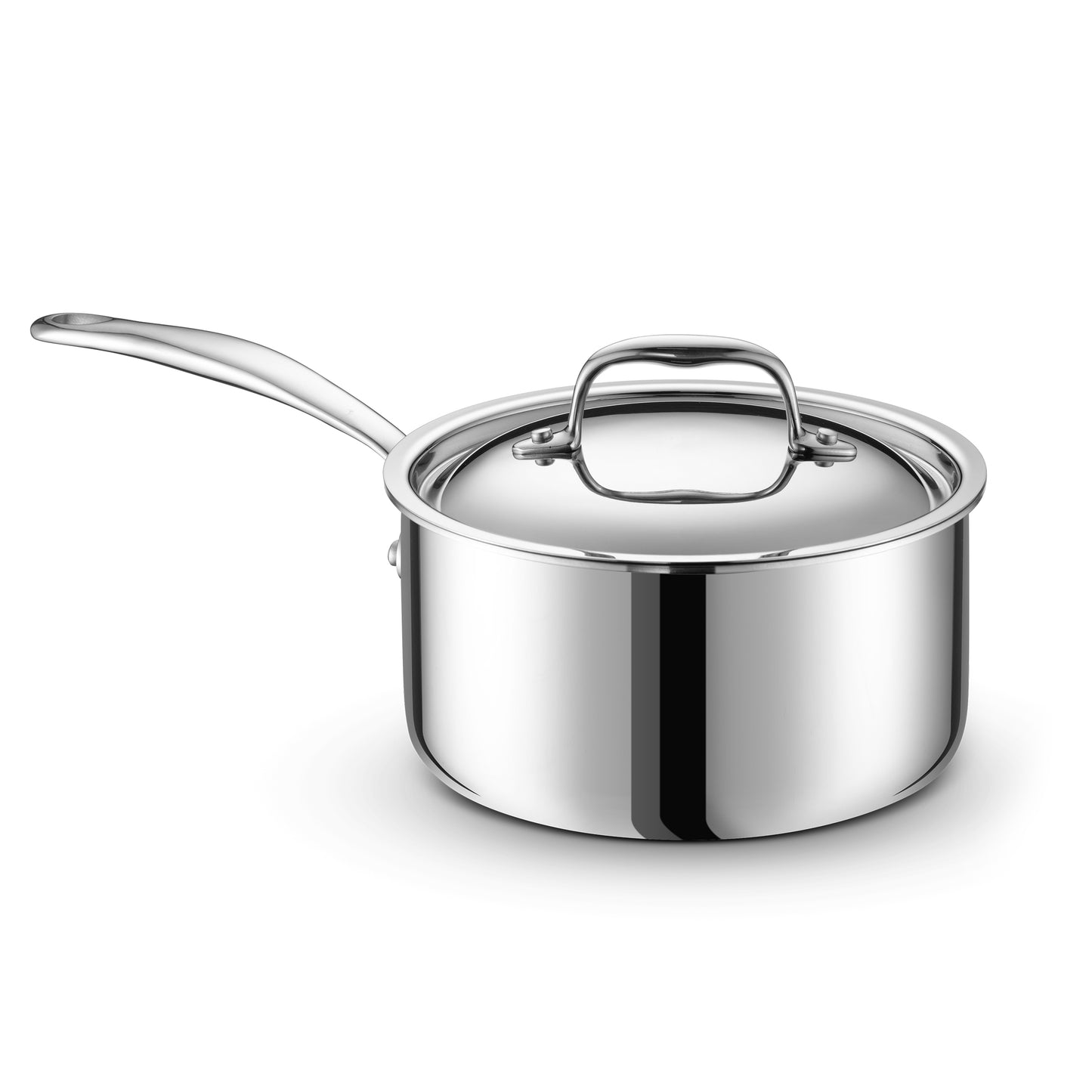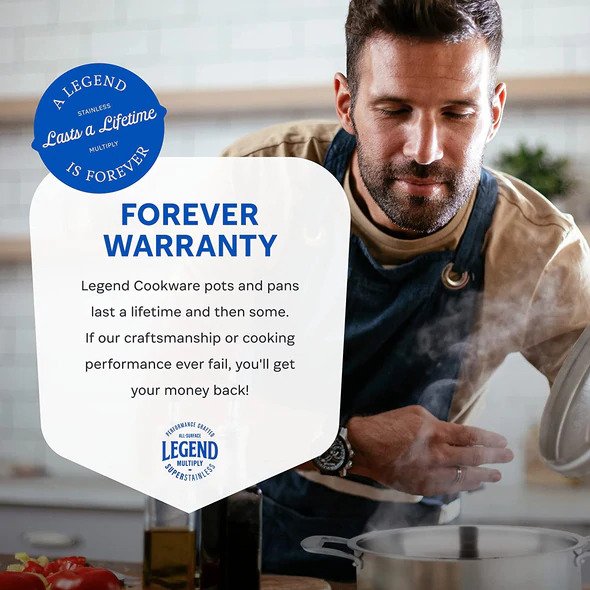 Free Shipping & Free Returns
Shipping
For orders within the continental U.S., we offer FREE domestic ground shipping— which usually delivers within 2-4 business days (once the order is processed). Orders shipping to Hawaii or Alaska will be subject to longer delivery times. Questions? Contact us.
Damaged Items
Contact us immediately if any item in your order is defective, or damaged or if you receive the wrong item so that we can evaluate the issue and make it right.
Returns
We offer free returns on all our products. Once you receive your item, you will have 45 days to request a return.
Contact us to start a return. We'll send you a return shipping label, as well as instructions on how and where to send your package.
If it's more than 45 days Contact us and we would try our best to make things right for you.
Exchanges
The fastest way to make an exchange is to return the item that you have. Once the return is accepted, you can then make a separate purchase for the new item. Contact us to start a return.
Refunds
Once we've received and inspected your return, you'll be fully refunded on your original payment method. Please remember that it can take some time for your bank or credit card company to process and post your refund.
Delicious Shipping

Fast, free shipping on all orders within the United States. What makes it so delicious? There's a chance you may find a surprise bonus in your order.

Forever Warranty

Legend cookware is built to last forever. Our lifetime warranty guarantees satisfaction or a refund.

"Because a legend lasts a lifetime"

Love Included

Your purchase is packed with care, even though it's tough enough to handle any bump in the road. Expect packaging sizzling with style and strength.
What's Included
2.5qt sauce pan

8.5" | 2.9 lb

10' fry pan

11.5" | 1.7 lb

8qt stock pot

11.6" | 6 lb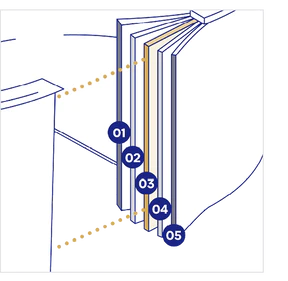 304 Stainless Steel
Easy Cleaning
1
Aluminium Layer A
Even Heating
2
Aluminium Core
Conductivity
3
Aluminium Layer B
Heat Retention
4
430 Stainless Steel
All Cooktops
5
Goes in (any) fire for you.
Gas. Electric. Glass. Induction. Oven. Grill. Use any heat source, and move seamlessly from stovetop to oven to table to dishwasher.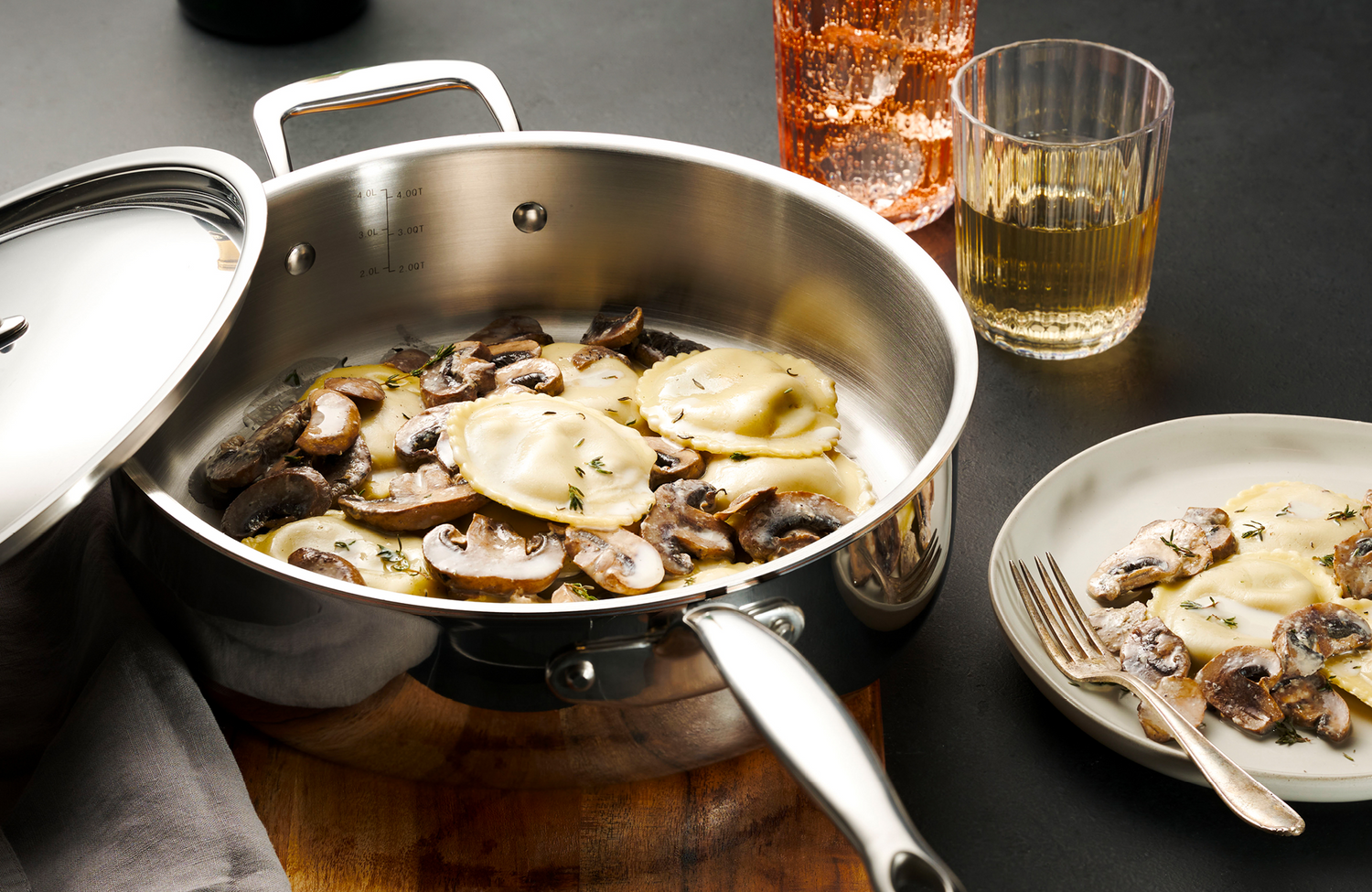 Handles anything you dish out.
The thick, cast stainless steel handles feature concave ergonomics for physical comfort, plus sleek rivets to ensure a lifetime of durability.
| | Legend Stainless Multiply | Traditional Stainless Steel |
| --- | --- | --- |
| Excellent Heat Retention | | |
| Cooks Evenly | | |
| Consistent Performance | | |
| Easy to Clean | | |
| All-Cooktop Compatible | | |
"Level up with this professional-grade cookware set."
Details & Specs
Structure

Number of Pieces: 5

Product type: Cookware Sets

Dimensions: 25" L | 51" W | 7.6" H

Cooking Surface:

Thickness: 2.5 MM

Weight: 16.5 lb

Interior Material: Aluminum

Interior Ply: 5 Ply

Max Temp: 450 °F
Usage

Dishwasher Safe: Yes

Gas Cooktop Safe: Yes

Electric Cooktop Safe: Yes

Glass Cooktop Safe: Yes

Induction Cooktop Safe: Yes

Oven Safe: Yes

Grill Safe: Yes
Manufacturing & Shipping

ASIN: L3613

Model #: 850030771155

Domestic Shipping: Free Shipping in USA

International Shipping: No International Shipping

Country of Origin:
FAQs
Does Legend MultiPly™ Cookware take a long time to heat up?

While our MultiPly™ collections don't heat up quite as fast as our Copper Core Collection, they do heat up much faster than other stainless steel cookware, which does not feature an aluminum center.
Does Legend MultiPly™ Cookware heat evenly?

Yes! The center of our Stainless MultiPly™ cookware is aluminum, which promotes even heating over the entire surface of the pan.
Does Legend MultiPly™ Cookware retain heat well?

Yes it does! Our 5-Ply collection retains heat longer than our 3-ply collection—but both feature an aluminum core, which helps lock in heat evenly.
What is Legend MultiPly™ Cookware made of?

This collection is made of 304 stainless steel and 430 magnetic steel—wrapped around a single- (3-ply) or multi-layer (5-ply) aluminum core.
Can I use my Legend MultiPly™ Cookware in the oven?

Yes you can! In fact, Legend MultiPly™ Cookware is safe to use on any cooktop, including gas stoves, electric stoves, glass cooktops, induction stoves—and even grills!

You can also use our cookware in the oven!
Will I need to replace my Legend Copper Core Cookware every year?

Absolutely not! Legend Cookware is built to last, without the need for frequent replacement. Follow the instructions in our MultiPly™ Cookware Care Guide to make the most out of your new set!
How is Legend MultiPly™ Cookware different from traditional stainless steel?

The main difference between Legend MultiPly™ Cookware and traditional stainless steel is the performance. Because of its multi-layered construction, our cookware offers more even heating—and better heat retention—than regular stainless steel. Our 304 stainless steel layer makes it easier for food to slide in and out of the pan, making it quicker to clean. Plus, all our copper core pans are dishwasher safe for ultimate convenience.
Is Legend MultiPly™ Cookware Non-stick?

No. Stainless steel cookware is not non-stick—this includes our MultiPly™ Collection. However, our 304 stainless steel layer does make it easier for food to slide off the pan than in traditional stainless steel pans.

However, Legend Slick is non-stick.
Is Legend MultiPly™ Cookware dishwasher safe?

Yes it is! All Legend MultiPly™ Cookware is safe to clean in the dishwasher.
Worth every penny and then some!!
I've been searching for a new set of pans for my husband for a while.
A couple of months ago, he got a new Camp Chef smoker/grill, so I wanted something heavy-duty that he could use on that, but I still wanted something I could use on the stove and in the oven.
When I started looking, I was floored by the prices. I wanted a good set that's made to last, but there was no way I would spend $1,000-$1,500. 😳 I wanted to keep it under $500, but I also didn't want to skimp on quality. I made an apples-to-apples comparison between 3 of the other 5-Ply stainless steel sets and the Legend set.
No significant differences in quality and functionality would necessitate spending 2-3 times as much as the Legend set. I've been using Legend cast iron pans for years, so I knew that any product I got from them would be made with the highest standards.
I surprised my husband with these right before Thanksgiving. He was thrilled that he had new toys to play with. We're super impressed with the quality and workmanship.
From the minute you take it out of the box, you can feel the quality in the weight of the pans. They're very solid and heavy duty. They look and feel like they're made for the long haul.
The new 5-ply version uses a 304 stainless steel layer on the interior to make it easier to clean. The next three layers are made of aluminum for faster and more even heat distribution and retention. The final 5th layer on the pan's exterior is made of 430 stainless steel, which makes these pans perform like a dream no matter what type of cooktop you use.
My husband used 3 of the pans on the smoker for Thanksgiving and I used one in the oven and one on the stovetop. Everything was cooked to perfection, and the pans performed beautifully. There was no warping or hot spots, just superior temperature control. The design of the pans is exactly like those that you'll find in a professional kitchen.
The cast stainless steel handles are all ergonomic to make carrying the pans easy. They're also expertly riveted into the pans for increased stability and longevity. I love the little details that make using these pans easier to use, like the easy pour rims, heavy custom-fitted lids and the measuring lines on the interior of the pan.
Those lines were a lifesaver on Thanksgiving when we made a million dishes and kept running out of measuring cups. At the end of the day when it was time to clean up, I was thrilled that these could go in the dishwasher. I was amazed that they all came out spotless and looked brand new.
Make sure that you read over the care guide that it comes with before using your pans. If you follow the care instructions, these pans will be ones you hand down to future generations. They even have a Forever warranty just in case there are any issues with the pans. This set is worth every penny and then some. This is a cookware set that'll come with no regrets.
Heavy duty
First thing you'll notice when you pick up a pot or pan from this set, this is a heavy and solid feeling set. Wow. I recommend you take everything out and hand wash it. It should be dishwasher safe, but this will help you understand how heavy-duty these pieces are. The handles attach well - they appear incredibly sturdy and well-crafted. The handles themselves have a nice curve that fits my hand great. The writing inside the pots for measurement is clear and will last years. In my opinion, this is a great set
Love them. No complaints.
Easy to clean. Work great to cook about anything
Last set of pots and pans I purchased was from the Lifetime company for $2500 + tax. I only had to buy another set because I installed an induction range top. Which the Lifetime set was not an induction set.
And I have to say, the Legend set is just as sturdy, and solid as the Lifetime set. I am very impressed to say the very least. The only thing I wish was different is, I wish the lids were glass instead of stainless steel. Thank you Legend company to making such a great set of cookware!!
I ordered this set as a gift to my sister and she loved the look and it was great to cook food. But highly recommended buyers to season your pots and pans before using it for the first time.
These pans have a learning curve. Oil and heat makes them work great
Good purchase!
I was looking for a new set of stain-steel cookware, and I found this Legend set, I am very impressed, it looks beautiful, very good material, easy to clean. I was afraid about the cleanness of them but I followed the instructions and I am very happy. I recommend this set.