Regular price
Sale price
$99.00
Unit price
per
3 Piece Hard Anodized Cookware Set
THE HEALTHIER, LONGER-LASTING COOKWARE – Legend Slick is a premium line of hard-anodized aluminum pots and pans. Coated with a hard-wearing nonstick finish, their non-porous, non-reactive cooking surface handles years of use and abuse. Start your journey with this 3-piece collection featuring our 10" fry pan and 12" fry pan with custom-fitted lid. 
NEXT-GENERATION NONSTICK PERFORMANCE – Through an electromagnetic process, Slick cookware possesses a unique protective layer, enabling effortless food release and infinite cooking versatility. It's lighter and more rust-resistant than cast iron; heats faster and cleans easier than stainless steel; and is far more durable and capable than generic nonstick. 
TASTE THE DIFFERENCE, NOT THE METALLIC TASTE – No rust. No reaction. Legend Slick marries the convenience of stainless steel with the stick-free finish of well-seasoned cast iron, delivering your healthiest cooking yet. Hard-anodized aluminum is acid-resistant, PFOA- and PFOS-free, FDA-safe, non-toxic, suitable for most stovetops, and oven-safe up to 428°F. 
LASTS LONG ENOUGH TO BE YOUR LAST SET – Our eternal passion is to bring you high-quality cookware that withstand the rigors of daily use. While Legend Slick pots and pans are intended to last a lifetime, our promise lasts even longer: If our craftsmanship or cooking performance fails you in any way, we will replace your item or give your money back. 
MAKE MEMORIES STICK WITH A GOURMET GIFT – For the parent preparing each kid's favorite, the new couple buying their first cookware set, the urbanite with limited storage space, or the chef in search of an easy backup, Legend Slick helps Release your fire™. Give the gift of all-purpose kitchenware that'll keep them safe, full, and endlessly inspired.
How to get cooking:
Follow included Hard Anodized care guide
Wash and dry inside and out
Fire up your stovetop, oven, grill, or campfire
Cook up a storm and serve right to the table with elegance and ease
5-Ply Premium Construction
Any-Rack Dishwasher Safe
Cast Stainless Steel Handles
All-Cooktop Compatible
Durable Riveted Handles
Safe & Secure Checkout
Free Shipping + Free Returns
30-Day Money-Back Guarantee
Accepted Payment Options
Features
Non-Stick
Easy to Clean
Dishwasher Safe
Easy Storage
Oven Friendly
Non-Toxic
Free Shipping and Returns
View full details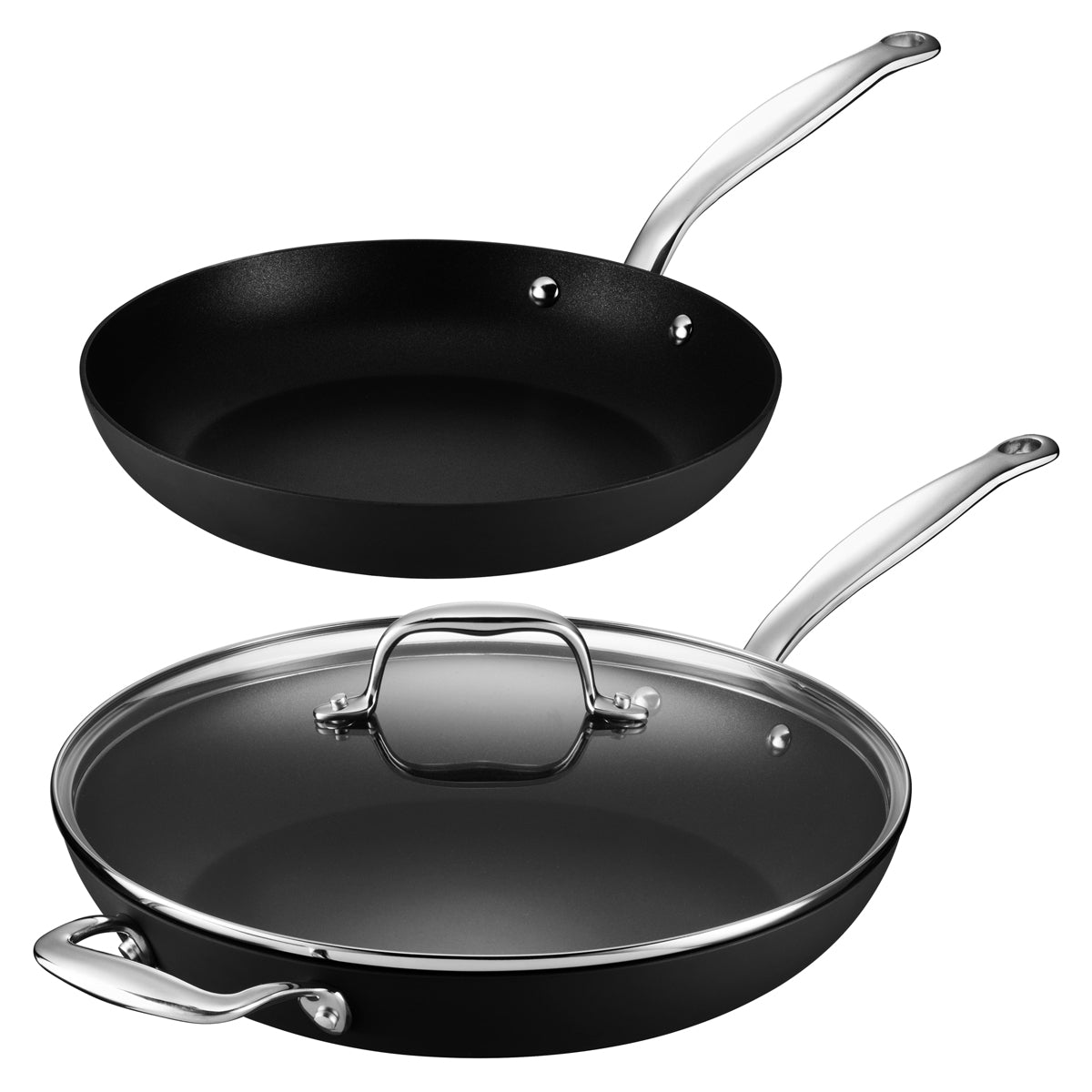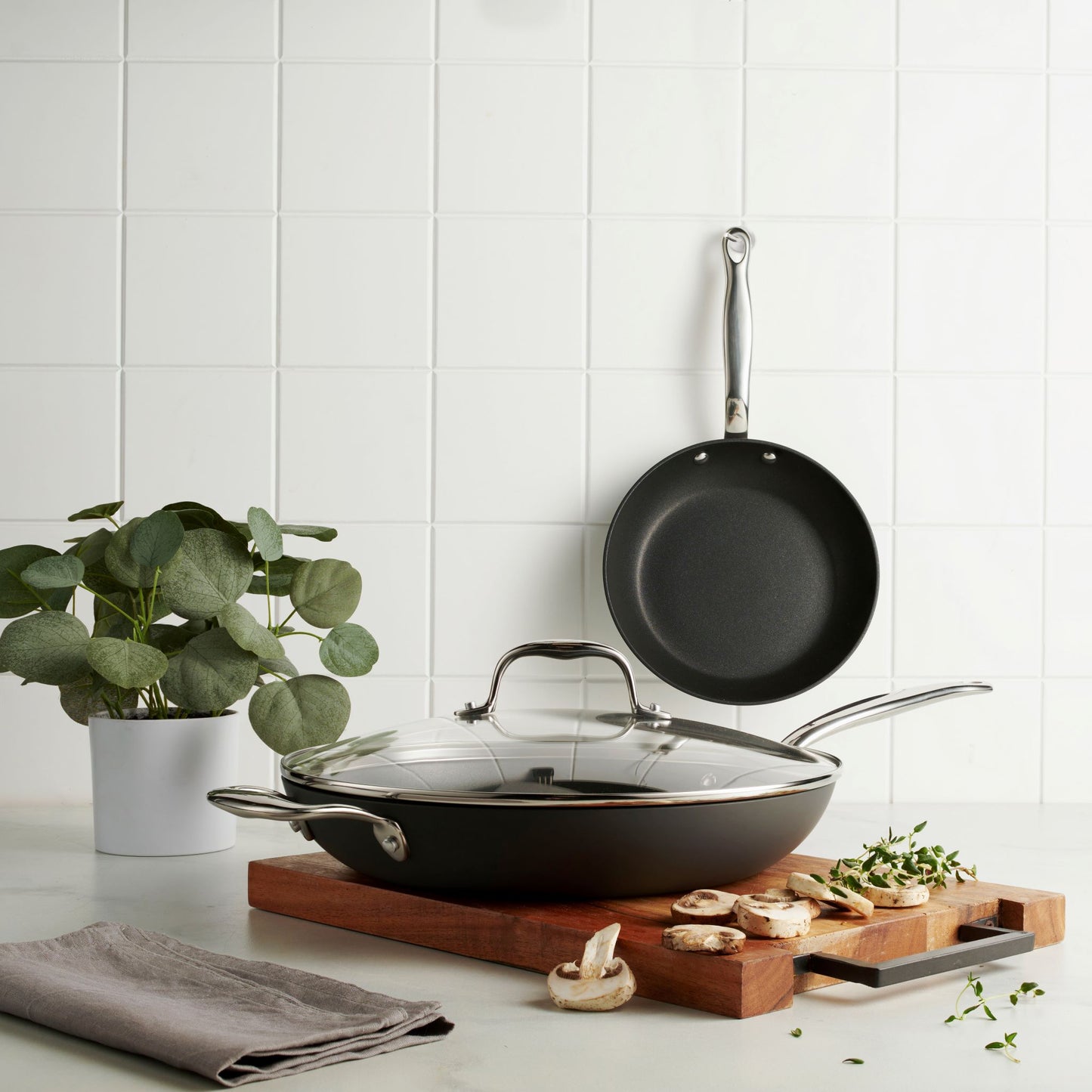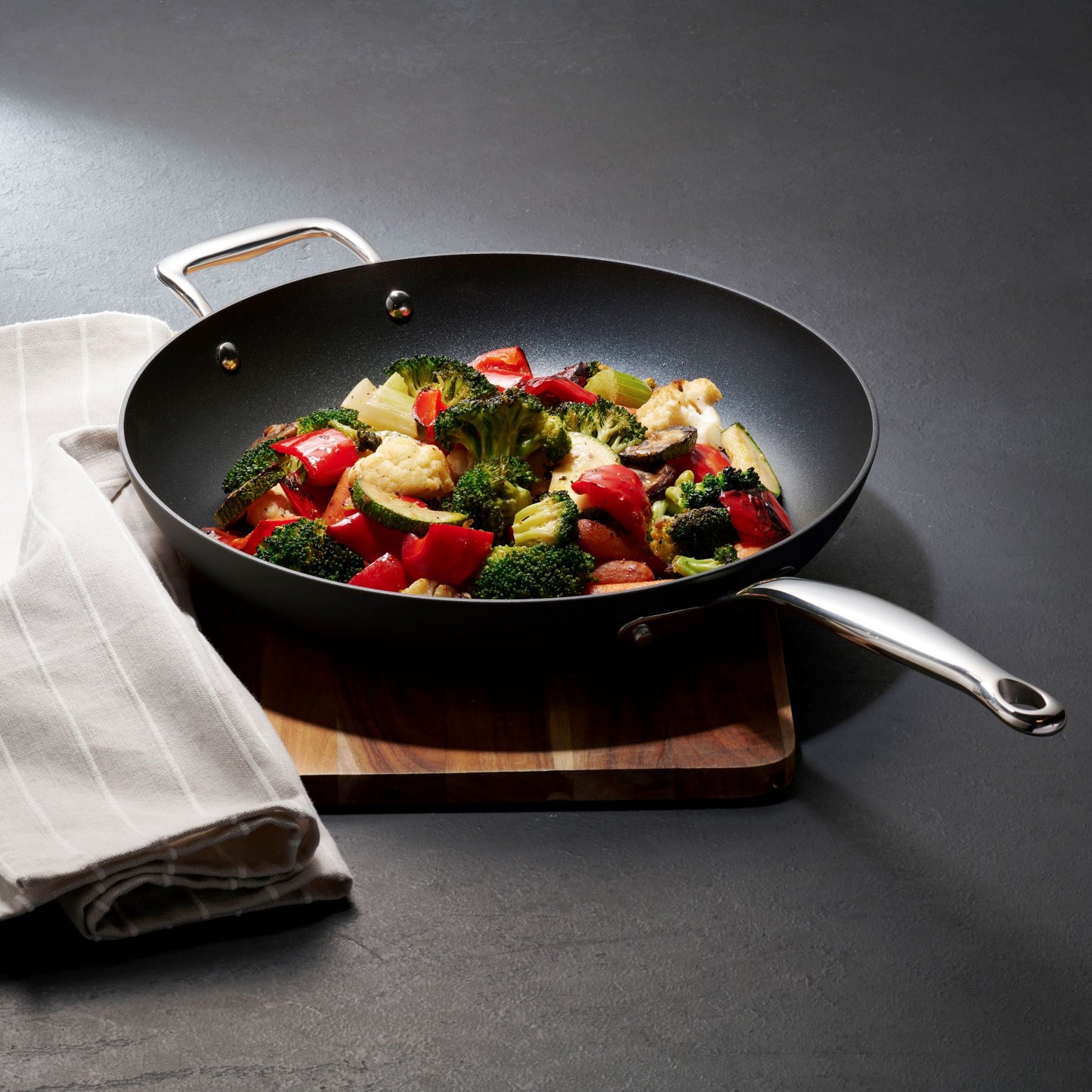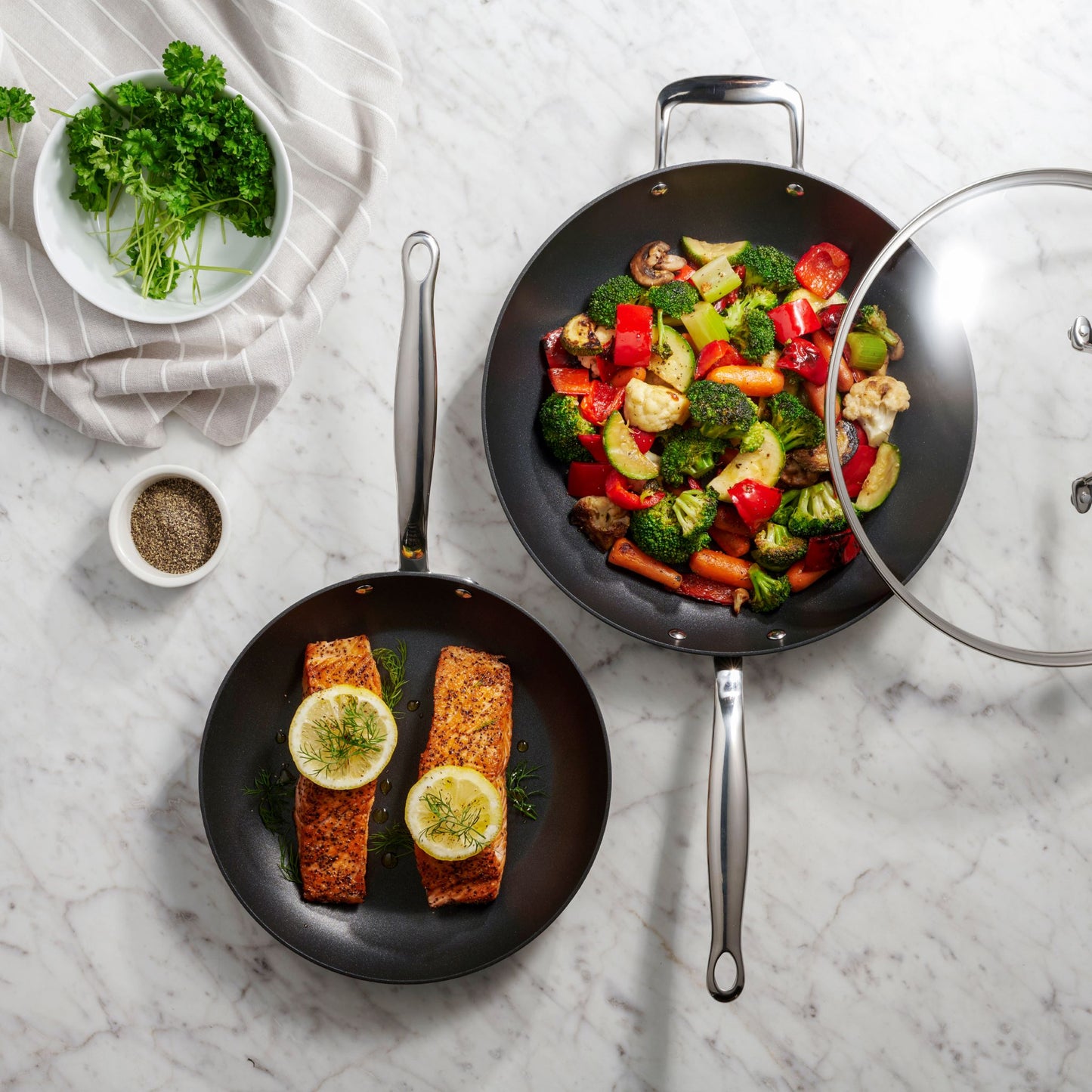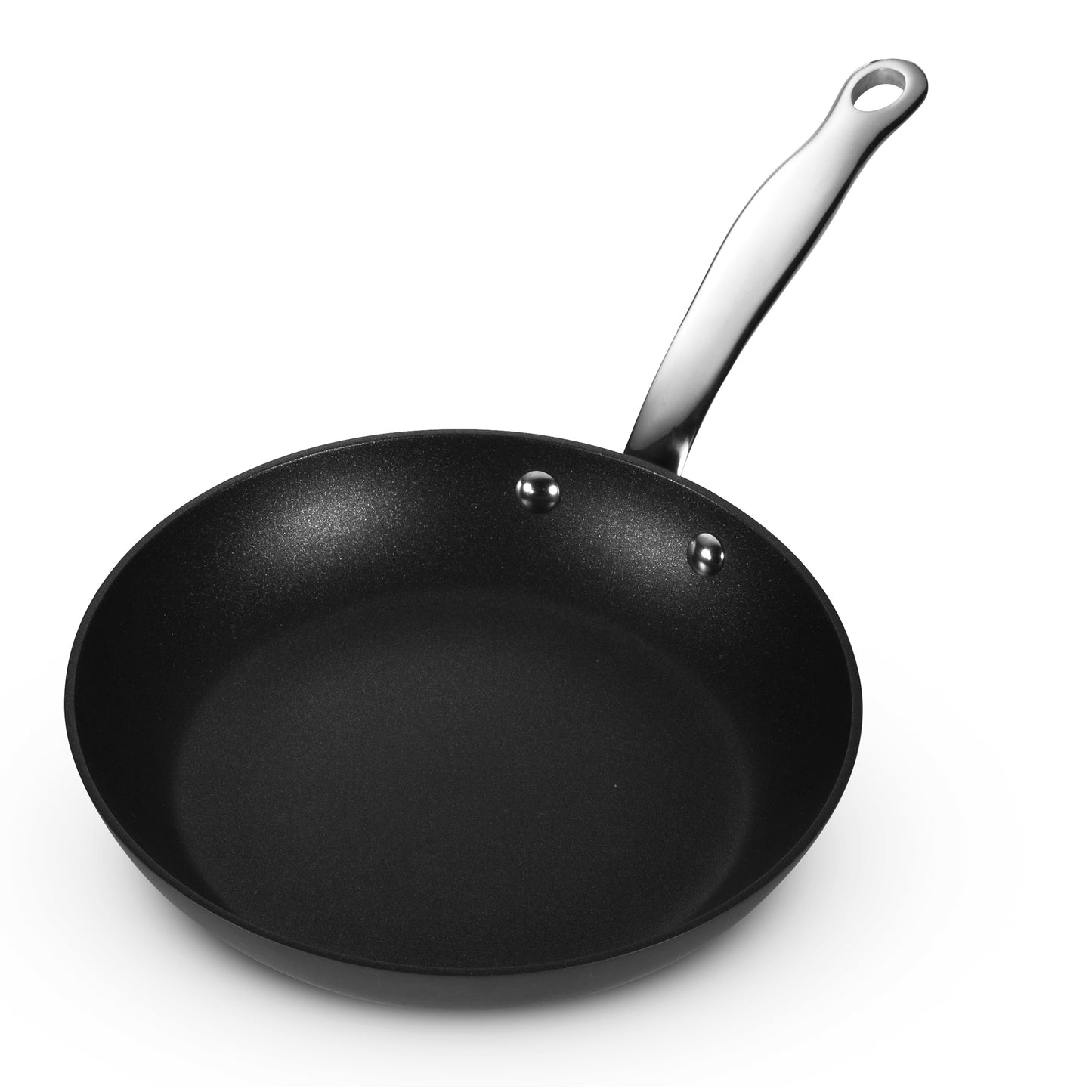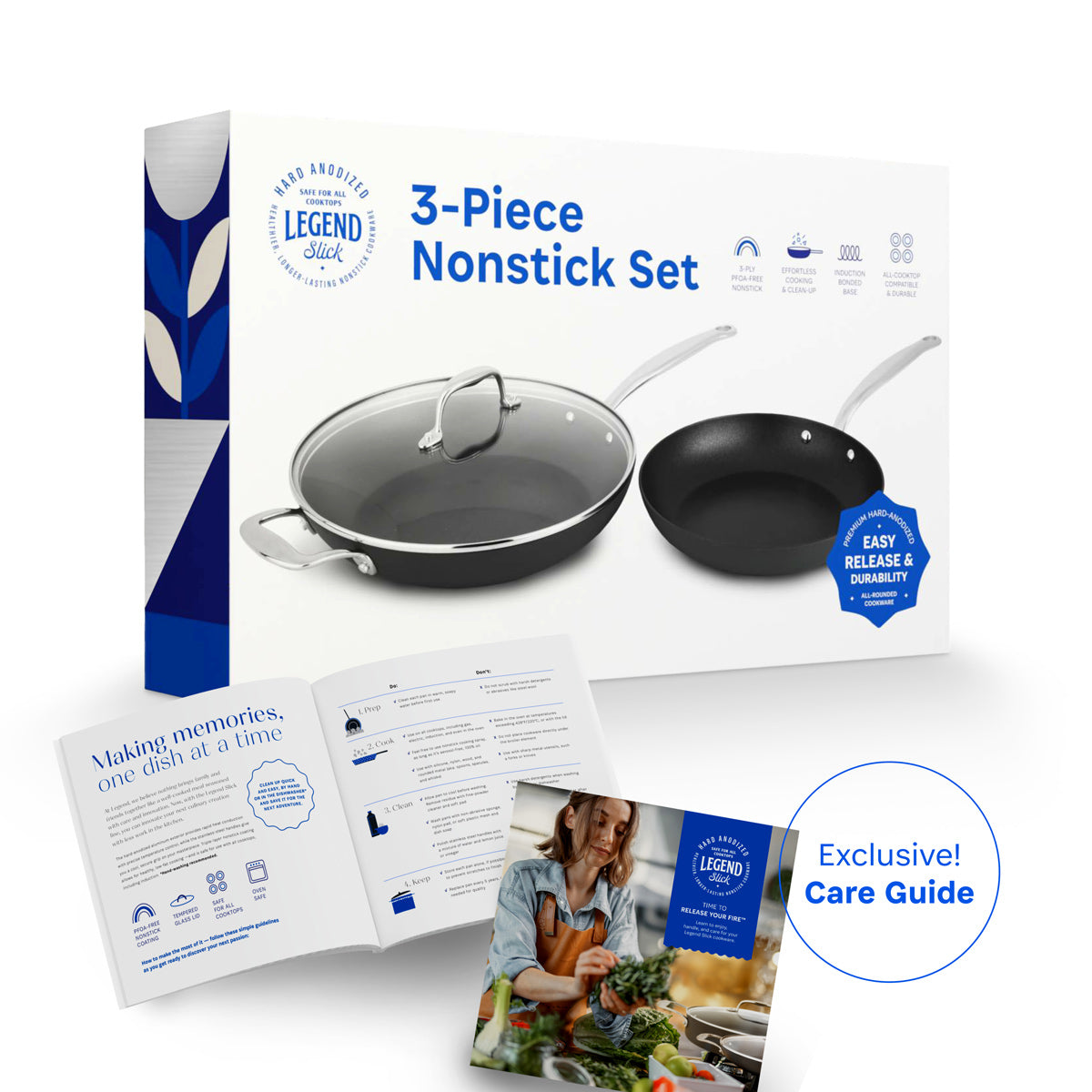 Free Shipping & Free Returns
Shipping
For orders within the continental U.S., we offer FREE domestic ground shipping— which usually delivers within 2-4 business days (once the order is processed). Orders shipping to Hawaii or Alaska will be subject to longer delivery times. Questions? Contact us.
Damaged Items
Contact us immediately if any item in your order is defective, or damaged or if you receive the wrong item so that we can evaluate the issue and make it right.
Returns
We offer free returns on all our products. Once you receive your item, you will have 45 days to request a return.
Contact us to start a return. We'll send you a return shipping label, as well as instructions on how and where to send your package.
If it's more than 45 days Contact us and we would try our best to make things right for you.
Exchanges
The fastest way to make an exchange is to return the item that you have. Once the return is accepted, you can then make a separate purchase for the new item. Contact us to start a return.
Refunds
Once we've received and inspected your return, you'll be fully refunded on your original payment method. Please remember that it can take some time for your bank or credit card company to process and post your refund.
What's Included
12-Inch Everyday Pan with Lid

1.3 L | 16CM

10-Inch Fry Pan

3.3 L | 26CM
Hello slick, bye chemicals.
Make an omelet without walking on eggshells. Legend's durable next-gen tri-coat nonstick finish deletes PFOA and other bad chemicals.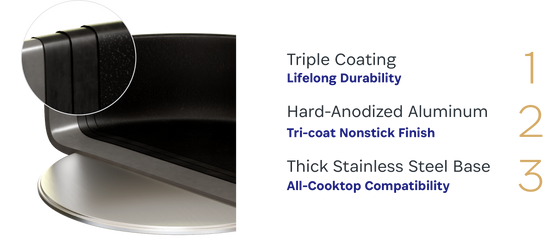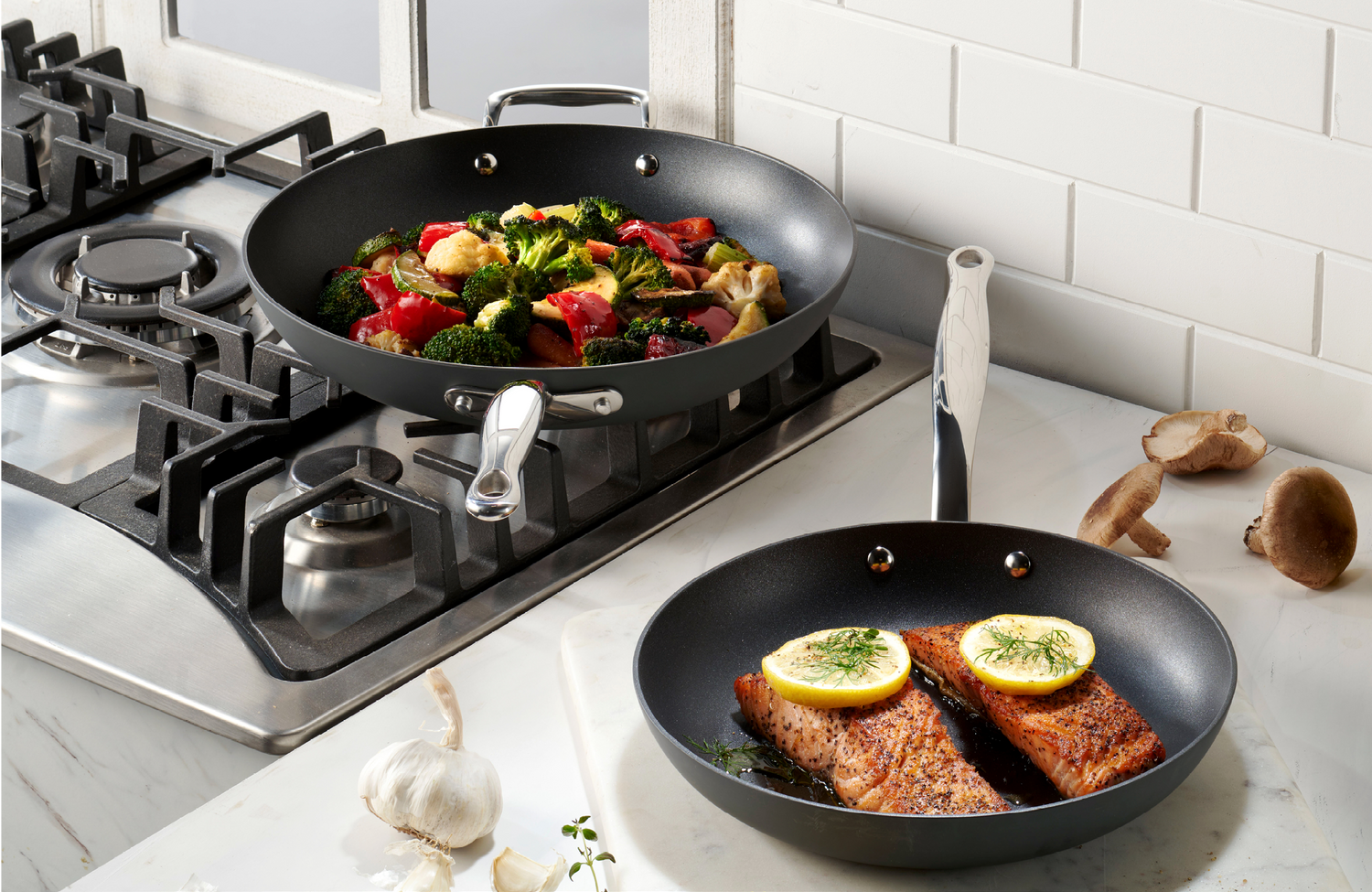 Use it more, replace less.
Under the nonstick cooking surface is tough, electromagnetically hardened aluminum for workhorse performance and lifelong durability.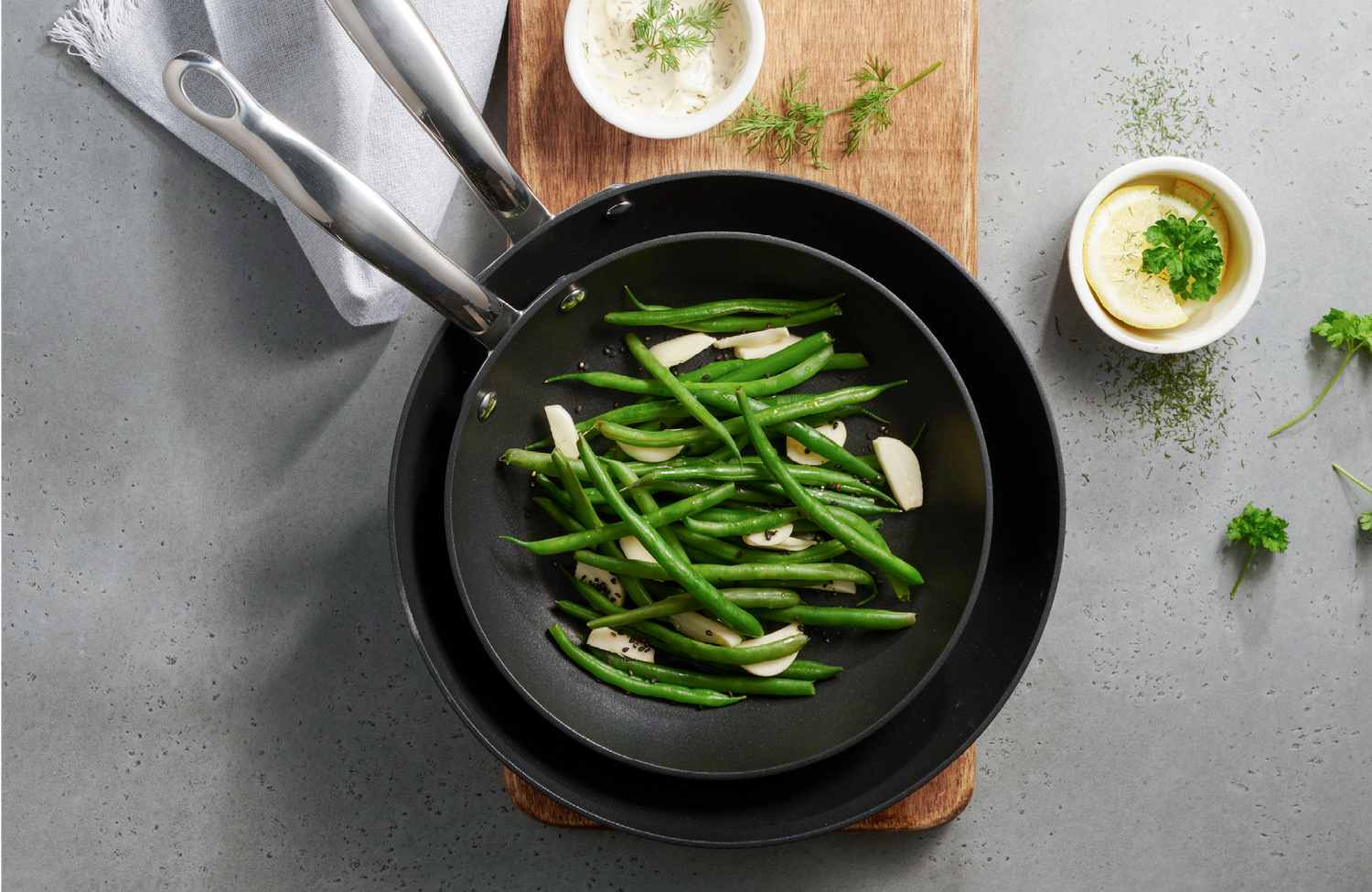 Induction is just the start.
Thick stainless steel base offers all-cooktop compatibility, including induction and glass. Use any heat souce, from campfire to oven.
Delicious Shipping

Fast, free ground shipping on all orders within the United States. What makes it so delicious? There's a chance you may find a surprise bonus in your order.

Forever Warranty

Never, ever stop making with Legend. If our craftsmanship or cooking performance ever fall short, we will make it right, or return your money in full.

Love Included

Your purchase is packed with care, even though it's tough enough to handle any bump in the road. Expect packaging sizzling with style and strength.
| | Legend Slick™ | Traditional Non-Stick |
| --- | --- | --- |
| Non-Stick | | |
| Non-Toxic | | |
| Dishwasher Safe | | |
| All-Cooktop Use | | |
| Wear Resistant | | |
"Level up with this professional-grade cookware set."
Details & Specs
Structure

Number of Pieces: 3

Product type: Cookware Sets

Dimensions: 23.8" L | 15" W | 5.5" H

Cooking Surface:

Thickness: 3 MM

Weight: 6.6 lb

Interior Material: Aluminum

Interior Ply:

Max Temp:
Usage

Dishwasher Safe: Yes

Gas Cooktop Safe: Yes

Electric Cooktop Safe: Yes

Glass Cooktop Safe: Yes

Induction Cooktop Safe: Yes

Oven Safe: Yes

Grill Safe: Yes
Manufacturing & Shipping

ASIN: L4600

Model #: 850030771162

Domestic Shipping: Free Shipping in USA

International Shipping: No International Shipping

Country of Origin:
FAQs
Does Legend Slick™ Hard Anodized Cookware take a long time to heat up?
Does Legend Slick™ Hard Anodized Cookware heat evenly?

Yes! Our hard anodized cookware is made of aluminum, which promotes even heating over the entire surface of the pan.
Does Legend Slick™ Hard Anodized Cookware retain heat well?

Yes it does! Legend Slick™ cookware is made of aluminum, which is designed to lock in heat evenly.
What is Legend Slick™ Hard Anodized Cookware made of?

This collection is made of multi-ply aluminum, with a hard anodized aluminum surface and a durable stainless steel base.
Can I use my Legend Slick™ Hard Anodized Cookware in the oven?

Yes you can! In fact, Legend Slick™ Hard Anodized Cookware is safe to use on any cooktop, including gas stoves, electric stoves, glass cooktops, induction stoves—and even grills! You can also use our cookware in the oven!
Will I need to replace my Legend Slick™ Hard Anodized Cookware every year?

Absolutely not! Legend Cookware is built to last, without the need for frequent replacement. Follow the instructions in our Legend Slick™ Care Guide to make the most out of your new set!
How is Legend Slick™ Hard Anodized Cookware different from traditional non-stick?

While our hard anodized cookware is non-stick, like traditional nonstick cookware, that's where the similarities end. Legend Slick™ pots and pans are non-toxic, wear-resistant, and safe to use on most cooktops. You can even put our pans in the dishwasher! Unfortunately, the same cannot be said for most traditional non-stick cookware.
Is Legend Slick™ Hard Anodized Cookware Non-stick?

Yes it is! We use an electromagnetic process to treat the aluminum layers, creating a non-porous surface that allows effortless food release.
Is Legend Slick™ Hard Anodized Cookware dishwasher safe?

Yes, all Legend Slick™ Hard Anodized Cookware is safe to clean in the dishwasher. However, in order to preserve the life of your cookware, hand-washing is recommended.
Love these pans
I just got these pans they look great! I have had all sorts of nonstick cookware and have never been really happy with any of them. I am hoping that these will be the pans that finally give me the results I am looking for. So far I am very pleased! They are solid, heavy duty pans that feel like they will last a long time. The coating seems to be very sturdy and I am hopeful it will stand up to years of use.
Thanks for the fast delivery!
Love these nonstick frying pans
As a foodie that loves to show off my omelet flipping skills i love these pans. They are way healthier than the teflon non stick pans because it is PFOA free, they are also very comfortable to flip because of it's light weight and how the handle is shaped. The coating appears to be of very high quality as it's made with 3 layers of non stick coating. Definitely recommended.
Good non-stick pans
I observed that food cooks evenly and does not burn or stick to bottom even with minimum oil.They have a solid base and strong handle for great grip. They are super easy to work with as they are not too heavy and easy to clean.I am considering other pans of bigger size to make a complete set.if you are confused to decide then go for them.
Great for Eggs
I ordered these pans specifically for eggs, and I'm happy with them. They are heavy and well made. The nonstick surface is perfect.I still use butter in the pan, and my eggs don't stick at all. I can finally do over-easy without breaking the yolks trying to get the eggs out of the pan.Clean up is a dream. Just glide a soapy sponge over the pan and everything cleans up on the first pass.My only hesitation is the insert with the pans said to replace them every 5 years, so I guess time will tell how well they stand up.For now, I recommend them.
Really non-stick! Nice feel/heft - high quality
I really LOVE these pans! For years, we've had "non-stick" pans in which food actually did stick - but these are different! They are TRULY non-stick. I've used them mostly for eggs so far, but will definitely use them for more and more. The pans feel like they have a good weight, and nicely balanced with the handle easy to hold - kind of makes me want to flip crepes or something. My hands are medium-sized, but my husband, with larger hands, also found the handle very comfortable. Washing is very easy - given that nothing stuck to the pans at all. The Amazon listing states, "While Legend Slick pots and pans are intended to last a lifetime, our promise lasts even longer: If our craftsmanship or cooking performance fails you in any way, we will replace your item or give your money back." So that seems like a guarantee I can really rely on. Of course, time will tell as far as durability and how well they hold up over the years, but I am optimistic. The ONLY thing negative I have to say about these is that there's a small discrepancy in the pamphlet that came with the cookware, as compared with the image of care instructions on the Amazon listing. In the image it says it can be used at up to 450 degrees, but in the pamphlet (and elsewhere on the Amazon listing), it says the limit is 428 degrees. That's a very minor thing to me - but if you're specifically wanting to use these in the oven in the 430-450 degree range, probably would be worth clarifying with the seller to be sure which limit is correct. Overall, I am SO happy with these that I am considering purchasing the larger set and just replacing our other pans and pots, which although they are reputable brands, never performed the way these Legend pans have performed so far. Highly, highly recommend!
Heavy Duty Cookware!
These are so nice! They are heavy duty & so smooth and nice. The cook nice as well & easy clean up.
Love these nonstick skillets ! Best ones I've had in a while.
Love these pans! The other cookware I bought is amazing too.
Frying and egg in the morning is quick and easy. That egg slides right onto my plate!
I also made play dough for my granddaughter in the larger pan. It was perfect! These pans are awesome!