Regular price
Sale price
$64.00
Unit price
per
THE PAN. THE MYTH. THE LEGEND – Famous for lifelong durability and workhorse versatility, Legend cast iron combines a rich heritage with the modern cook's needs. Cast from solid, pure, premium-grade steel and iron, this 3.2Q combo set of dutch oven and convertible lid+skillet masters heat distribution like no other.
A MODERN TAKE ON A CLASSIC – Contemporary features include a smoother finish, long integrated handles on each skillet, and a perfectly fitted lip design on the shallow skillet. Works with all cooktops too: Over the highest flame on the stove, at medium heat in the oven, or on live campfire coals.
IMPROVES WITH EVERY USE – The more you cook, the better it performs. Your Legend skillets arrive with a foundational seasoning of 100% vegetable oil (no synthetic coatings or chemicals). As you build up your own seasoning, you write your story into a pan that's worth passing down.
A LEGEND IS FOREVER – What's better than a warranty? 1,000 years of proven performance. Legend cooking pots and pans last a lifetime and then some. Just try putting a dent in one of these! See what millions of other chefs and cooks already know: Nothing beats cast iron's durability.
GIVE THE GIFT OF LOVE – For the chef who swears by cast iron; for the home cook who's discovered the allure of cast iron; for the sourdough baker; for the guy with a penchant for cooking; for the grandmother who appreciates the high-quality of yesteryear—give them all the gift of a Legend.
5-Ply Premium Construction
Any-Rack Dishwasher Safe
Cast Stainless Steel Handles
All-Cooktop Compatible
Durable Riveted Handles
Safe & Secure Checkout
Free Shipping + Free Returns
30-Day Money-Back Guarantee
Accepted Payment Options
Free Shipping and Returns
View full details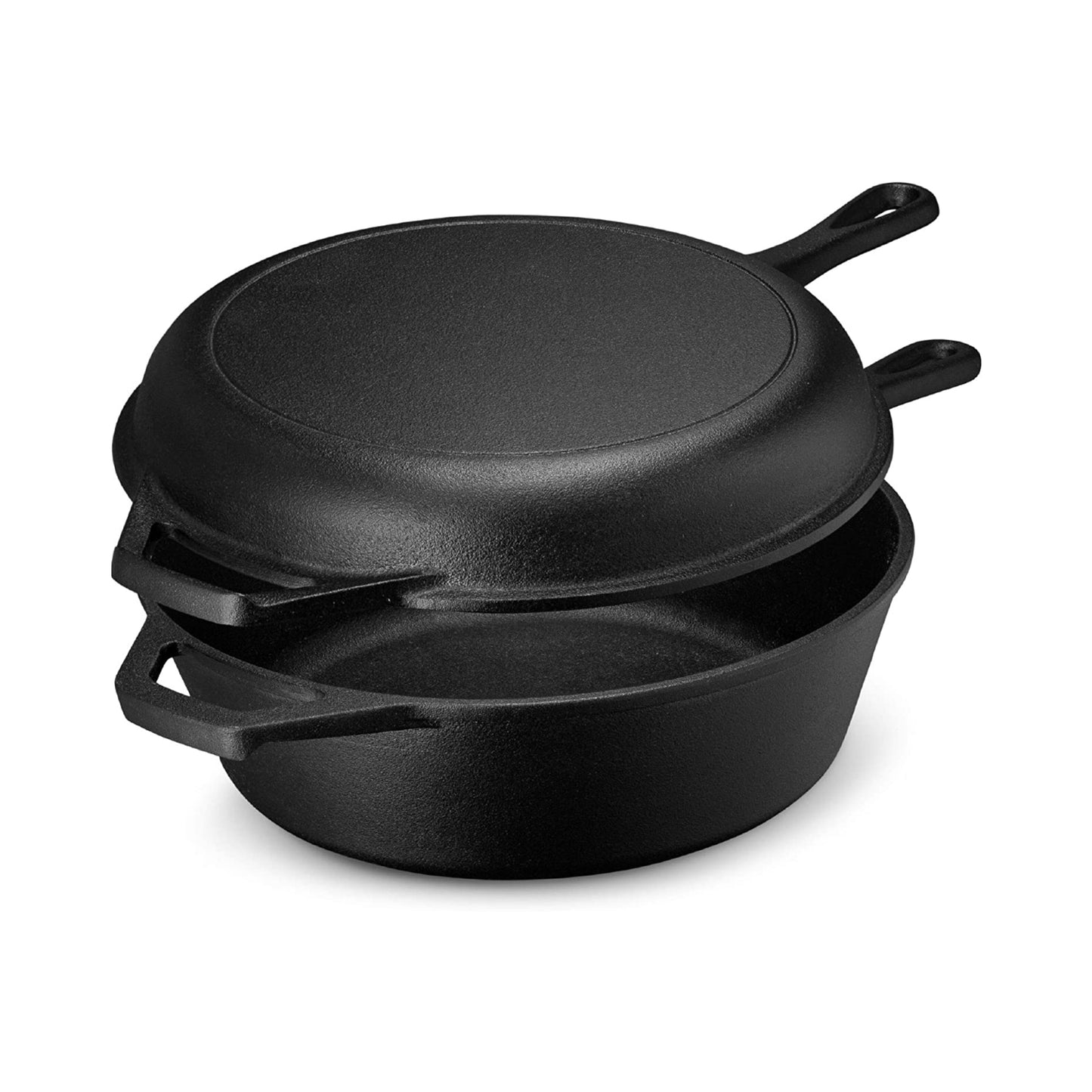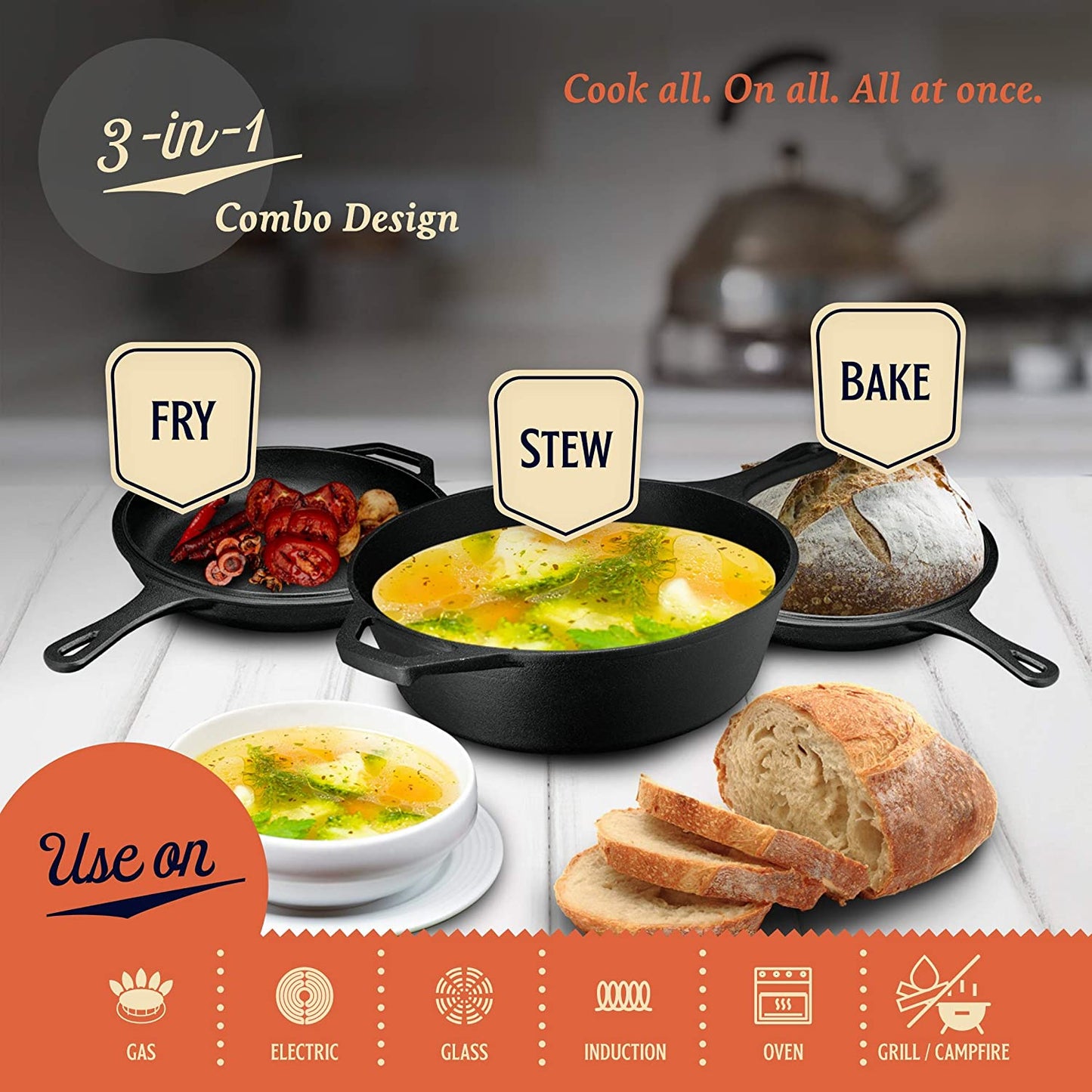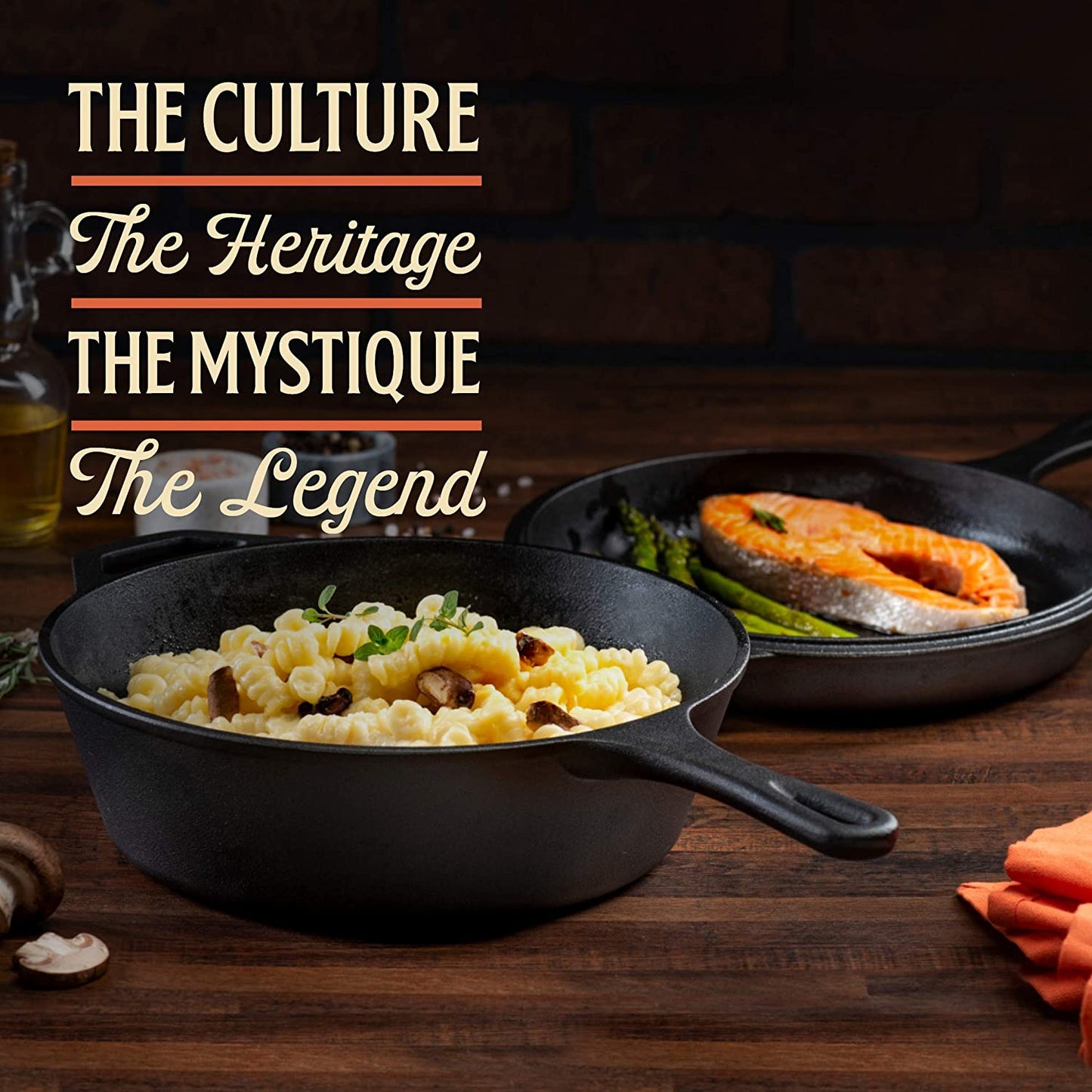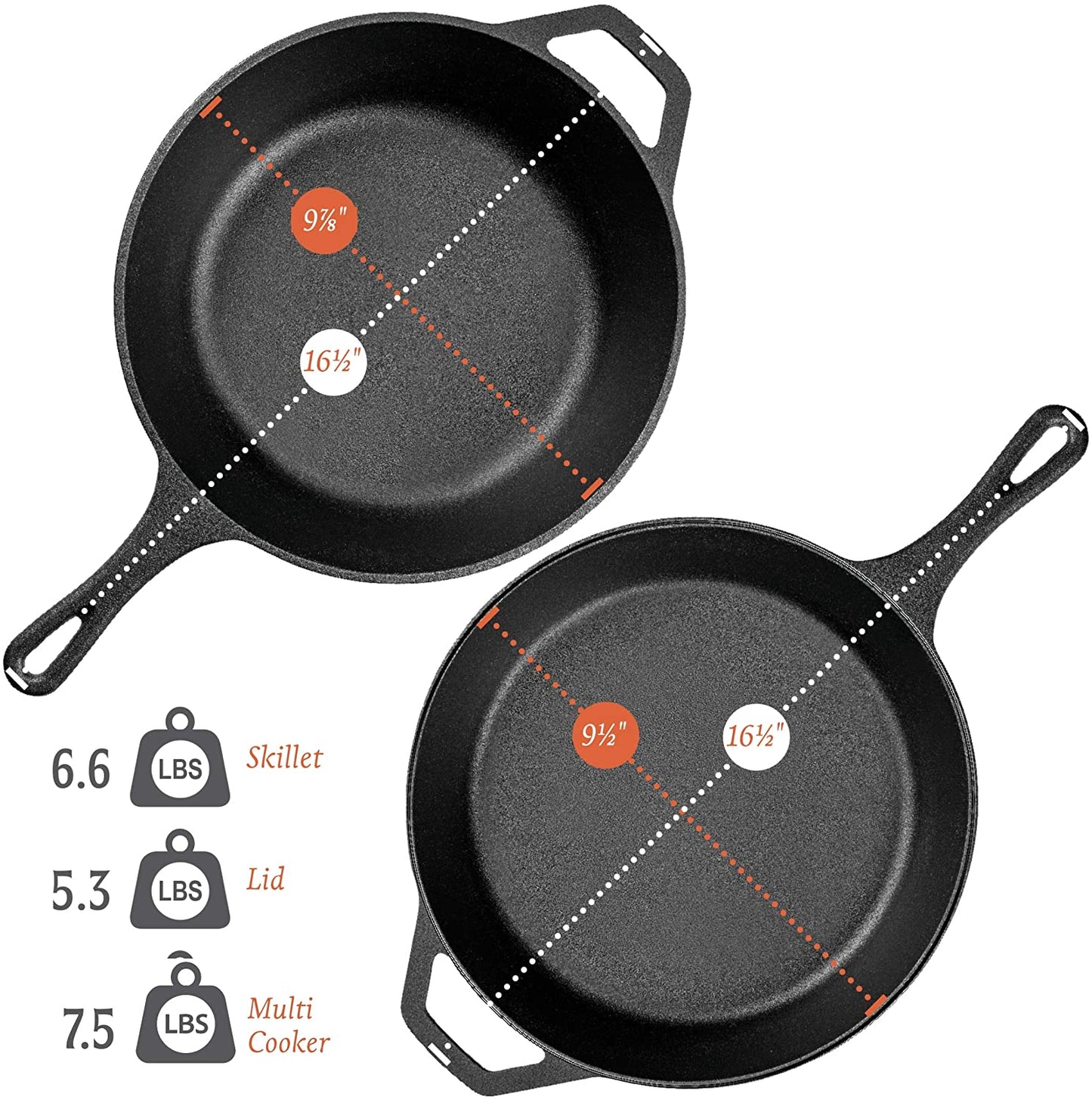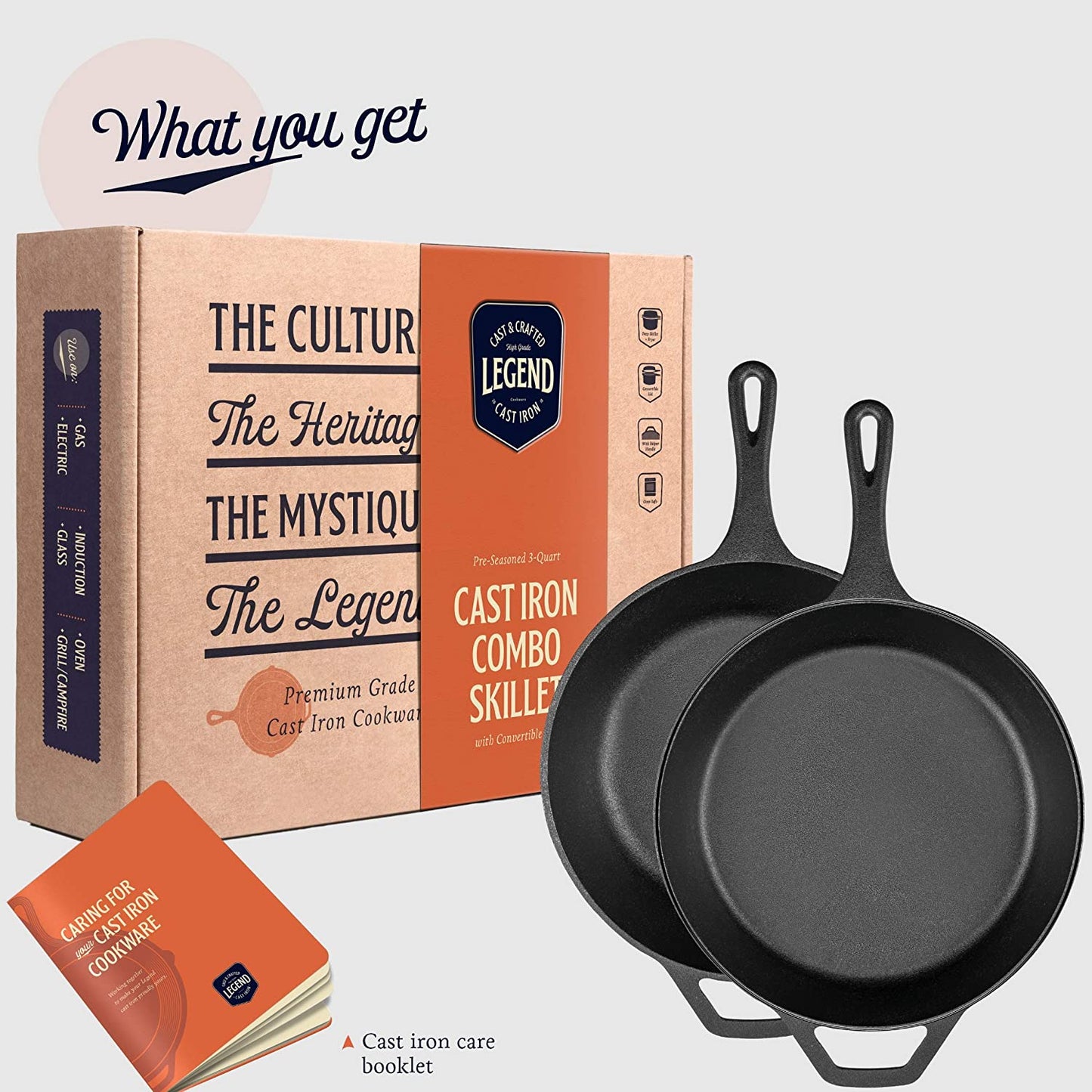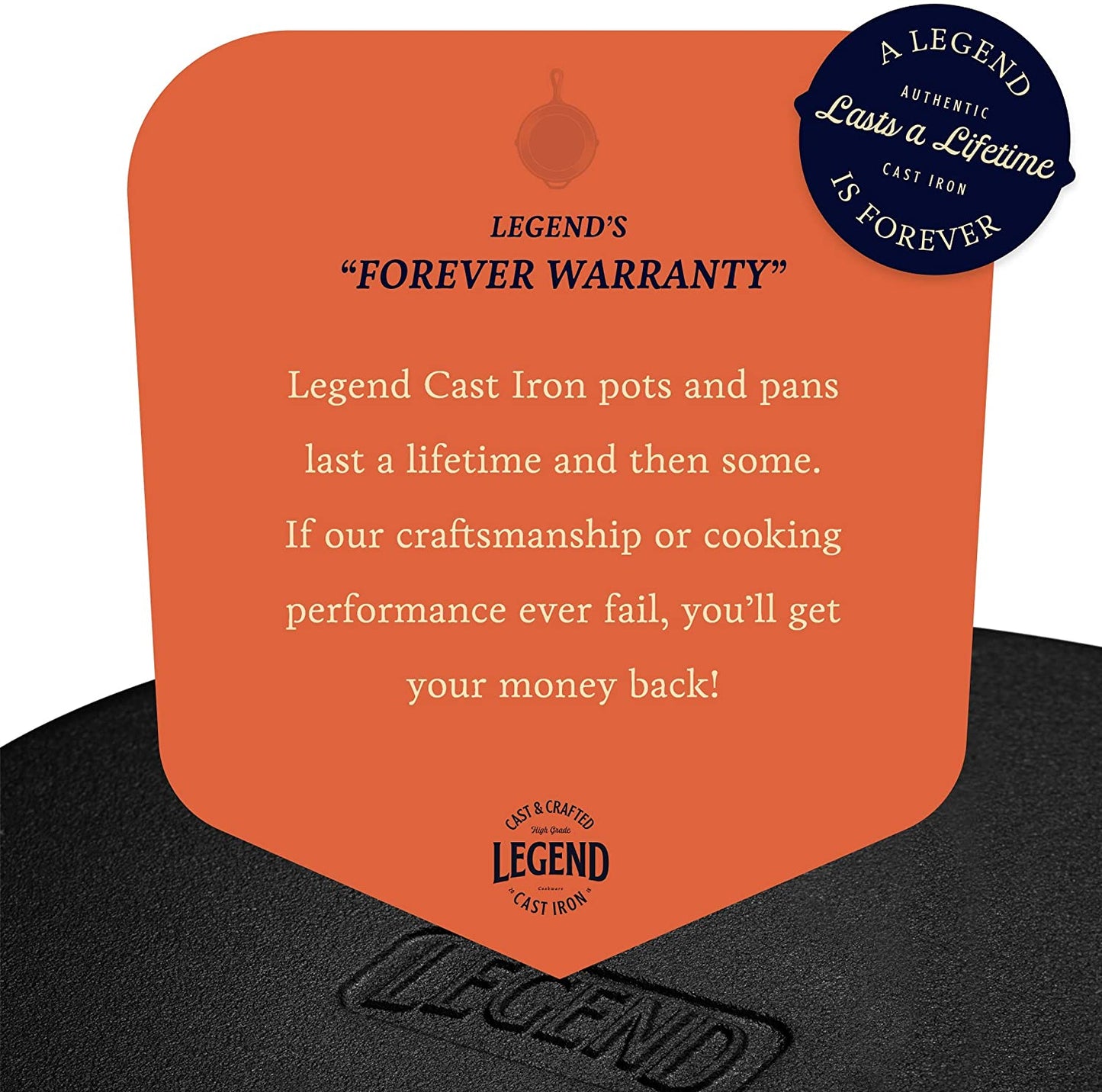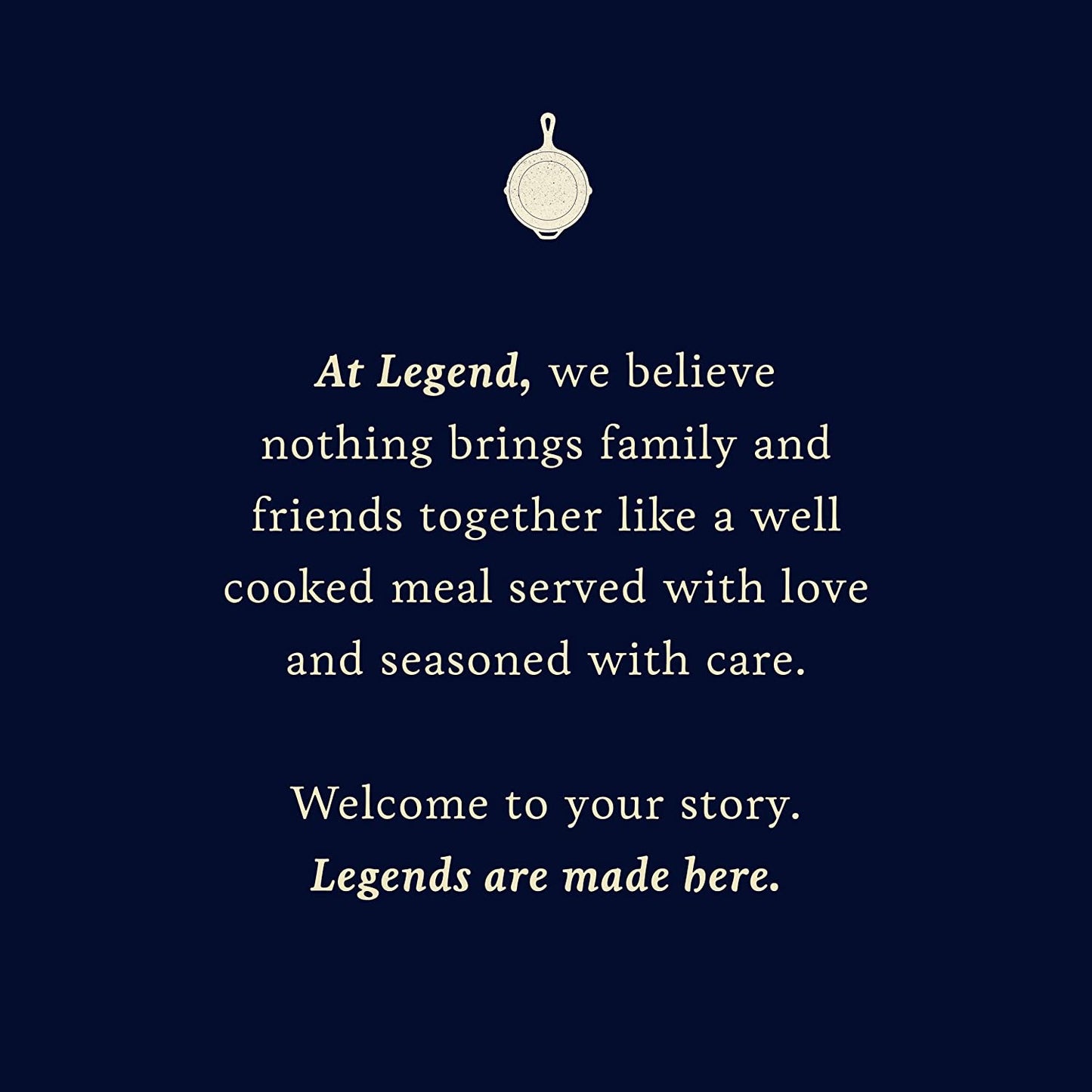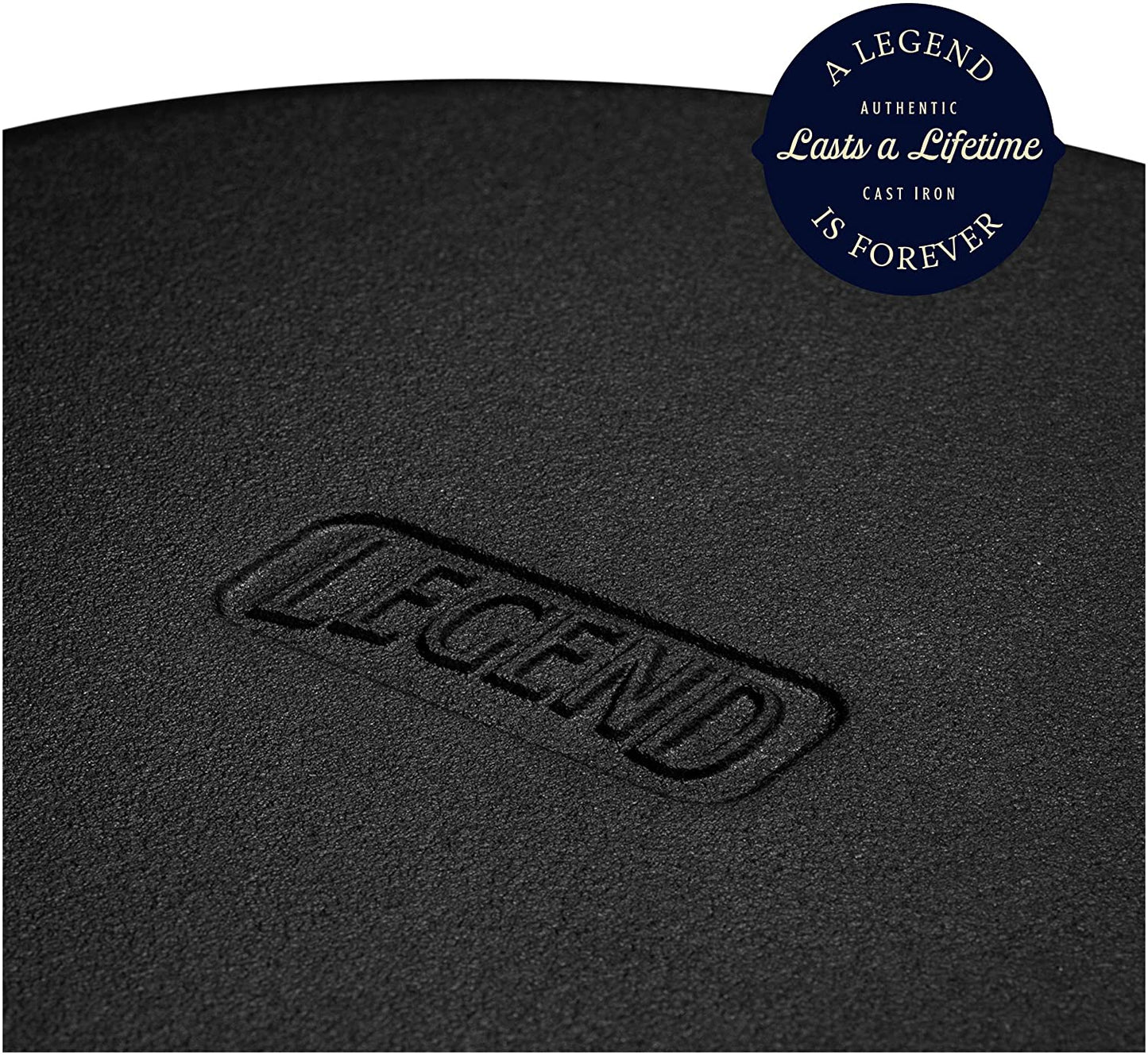 Free Shipping & Free Returns
Shipping
For orders within the continental U.S., we offer FREE domestic ground shipping— which usually delivers within 2-4 business days (once the order is processed). Orders shipping to Hawaii or Alaska will be subject to longer delivery times. Questions? Contact us.
Damaged Items
Contact us immediately if any item in your order is defective, or damaged or if you receive the wrong item so that we can evaluate the issue and make it right.
Returns
We offer free returns on all our products. Once you receive your item, you will have 45 days to request a return.
Contact us to start a return. We'll send you a return shipping label, as well as instructions on how and where to send your package.
If it's more than 45 days Contact us and we would try our best to make things right for you.
Exchanges
The fastest way to make an exchange is to return the item that you have. Once the return is accepted, you can then make a separate purchase for the new item. Contact us to start a return.
Refunds
Once we've received and inspected your return, you'll be fully refunded on your original payment method. Please remember that it can take some time for your bank or credit card company to process and post your refund.
Tough as literal nails.
Our cast iron has no idea how to quit, ever. Cast from solid, pure, premium steel and iron, it offers unmatched heat distribution and power.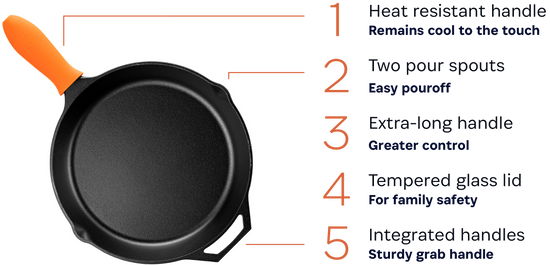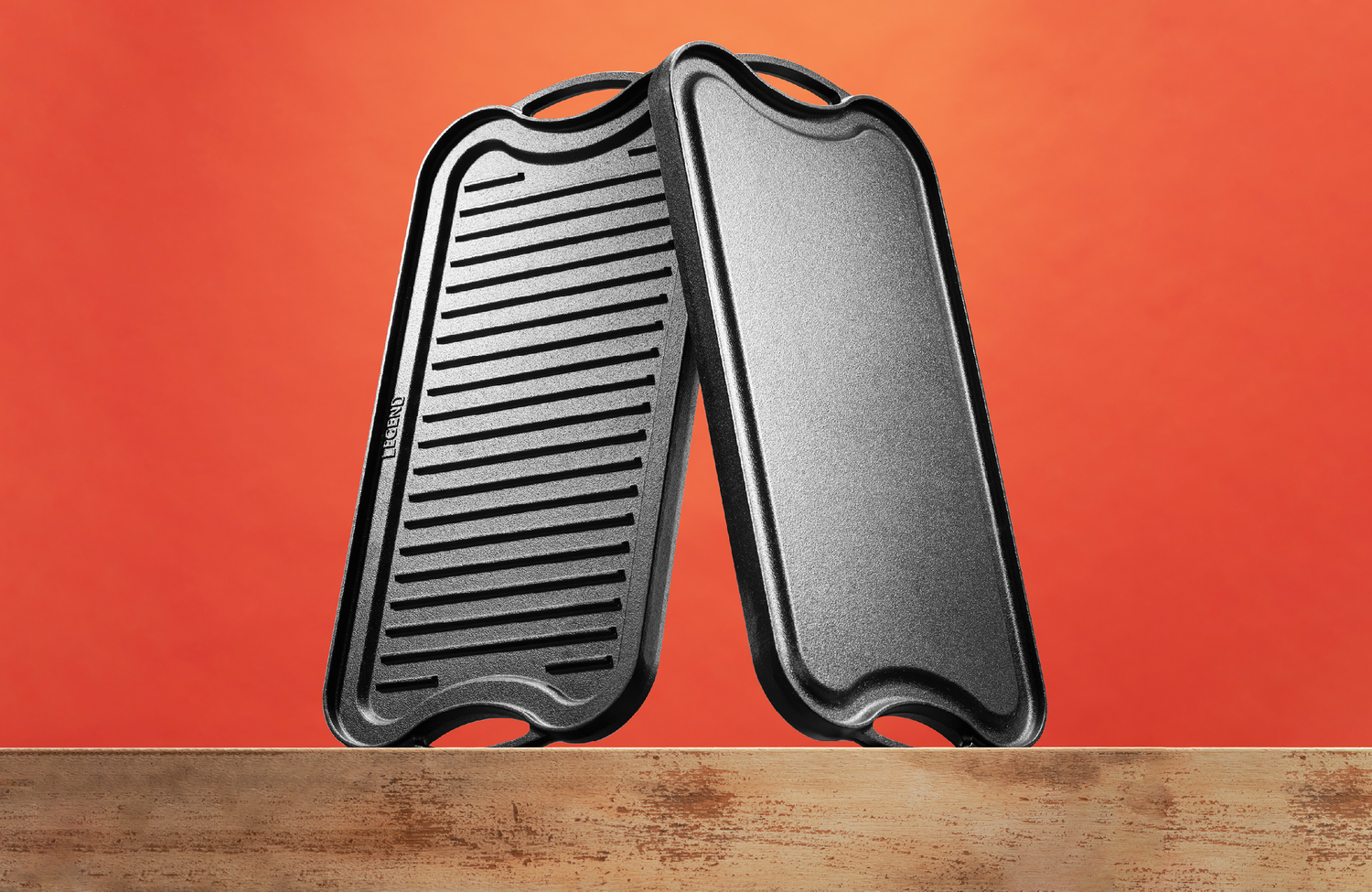 Arrives ready. Gets better.
We apply a light layer of 100% vegetable oil as pre-seasoning. With continued use, it builts up to a perfect, healthy, no-chemical nonstick.
Goes in (any) fire for you.
Gas. Electric. Glass. Induction. Oven. Grill. Use any heat source, and move seamlessly from campfire to stovetop to oven to table.
Delicious Shipping

Fast, free ground shipping on all orders within the United States. What makes it so delicious? There's a chance you may find a surprise bonus in your order.

Forever Warranty

Never, ever stop making with Legend. If our craftsmanship or cooking performance ever fall short, we will make it right, or return your money in full.

Love Included

Your purchase is packed with care, even though it's tough enough to handle any bump in the road. Expect packaging sizzling with style and strength.
| | Legend Cast Iron | Traditional Cast Iron |
| --- | --- | --- |
| Non-Stick (Pre-Seasoned) | | |
| Non-Toxic | | |
| Smoother, Food-Release Finish | | |
| Long, Ergonomic Handles | | |
| All-Cooktop Compatible | | |
"Level up with this professional-grade cookware set."
Details & Specs
Structure

Number of Pieces:

Product type: Skillets & Frying Pans

Dimensions:

Cooking Surface:

Thickness:

Weight: 1.0 lb

Interior Material:

Interior Ply:

Max Temp:
Usage

Dishwasher Safe: Yes

Gas Cooktop Safe: Yes

Electric Cooktop Safe: Yes

Glass Cooktop Safe: Yes

Induction Cooktop Safe: Yes

Oven Safe: Yes

Grill Safe: Yes
Manufacturing & Shipping

ASIN: L2603

Model #:

Domestic Shipping:

International Shipping:

Country of Origin:
FAQs
Does Legend Cast Iron Cookware take a long time to heat up?

In comparison to other, more modern cookware, yes. However, cast iron retains heat for much longer than other cookware.
Does Legend Cast Iron Cookware heat evenly?

Once the pan is fully hot, it will distribute heat evenly. We recommend pre-heating your pan before use for better performance.
Does Legend Cast Iron Cookware retain heat well?

Yes it does! Cast Iron Cookware is one of the most heat-retentive materials on the planet. You can even use a lower heat setting than other pans, once your skillet is heated up.
What is Legend Cast Iron Cookware made of?

We use a high-quality blend of cast iron and steel to make our pans. This allows for maximum durability and exceptional performance.
Can I use my Legend Cast Iron Cookware in the oven?

Yes you can! In fact, Legend Cast Iron Cookware is safe to use on any cooktop, including gas stoves, electric stoves, glass cooktops, induction stoves, grills, ovens—and even over a fire!
Will I need to replace my Legend Cast Iron Cookware every year?

Absolutely not! Legend Cookware is built to last, without the need for frequent replacement. Follow the instructions in our Cast Iron Care Guide to make the most out of your new set!
How is Legend Cast Iron Cookware different from traditional cast iron cookware?

For our cast iron collection, we took all the things you love about heritage-rich, cast iron cookware and added a few little details of our own to make cooking up your next creation even easier. For example, we implemented longer, more ergonomic handles for a stronger grip. We also designed a smoother finish to make it easier to reap the benefits of your pans natural non-stick features even faster.
Is Legend Cast Iron Cookware Non-stick?

When used properly, yes. Cast iron cookware is naturally non-stick due to many layers of "seasoning" with cooking oil. The more you use your pan, the less food will stick. Our cookware comes pre-seasoned with a thin layer of high-quality vegetable oil to help get you started. Follow the instructions in your Cast Iron Care Guide to continue to season your pans.
Is Legend Cast Iron Cookware dishwasher safe?

Unfortunately, no. Washing in the dishwasher could affect the appearance and performance of your cast iron cookware. Follow the instructions in your Cast Iron Care Guide to clean and care for your pans.
Awesome!
I love this set. I cook everything I can in it. And to make matters even better, their customer service is incredible. I had a little blemish develop in my pan and I mean LITTLE (I attached a picture). From what I read the problem was simply the seasoning flaking off so I thought I'd contact legend and see the best way to about fixing it. I figured it would be re seasoning. Nope. They sent me a whole new set. Two days later brand new. I think the pans are awesome and so is the company. Can't ask for better customer service than that. Most places won't even return your emails or answer the phone anymore. I will definitely buy more from them in the future.
So versatile
I love this set. I used the top "skillet" almost everyday while camping and used the Dutch oven to make the crunchy campfire Mac and cheese in the photo. I preseasoned the pieces per the instructions, clean up is a breeze. I bought this for camping but have moved it right into my kitchen now that we are home. I know I will use it often.
Will Buy More Soon!
This item was just as advertised! The ability to use the top as its own skillet comes in handy. Reminds me of Grandma's cast irons growing up!! I will definitely be adding to my collection, using this brand very soon. Here is a picture of my Egg Rolls that I made in the 3 qt. part of the Dutch Oven. DELICIOUS.
Great results baking bread
Used this to bake about a dozen loaves of bread with great results. Strong, sturdy, easy to use, and versatile even if so far I've only used it for bread.
Great quality! Love it! ❤️
Non-stick finish right out of the box! Love the versatility of these quality pieces - often using the lid as a fry pan. Happy to say I can use them with absolutely no worries on my brand new Whirlpool Schott Ceran smooth top range (many reviewers for cast iron cookware report that it can easily mar the finish on a smooth top range - this is utter bunk!). I have several pieces of really old cast iron cookware, still in fabulous condition, and happily display my new Legend beside it.
Lighter and smoother than Lodge; perfect for baking bread
And cheaper also, by $1. The finish on this is much smoother than Lodge and it's considerably lighter. Still cast iron but easier to lift and to clean. I bake artisan bread in the skillet part covered by the pot and I can fit 4 in my oven at once. I'm ordering the three additional right now.
Buen producto
ya hice mi primer pan de masa madre y fue un éxito